The best apps make owning an Apple iOS device both fun and helpful. OffMaps, a $2 hybrid offering for the iPhone, iPod touch, and iPad from Felix Lamouroux, aspires to this level of craftsmanship, but instead often ends up a frustrating experience.
The idea behind OffMaps is solid: You can't expect that your phone or tablet will always be in range of a Wi-Fi or 3G network when you visit a strange city, so you can't expect that you'll always be able to use your device's native Maps application to guide you from here to there. OffMaps lets you download local city guies for permanent storage on your iOS device—complete with a list of local landmarks, restaurants and other hot spots—so you have an atlas available even when an online connection isn't.
But you'll pay: OffMaps' $2 price is just an entry fee. You get two free guide downloads when you buy OffMaps, but after that, you must spend a dollar to buy three "tokens," with each downloaded guide costing one token. If you travel widely and plan to make extensive use of this app, you'll probably want to take the other option offered by OffMaps: Spend $9 for unlimited downloads.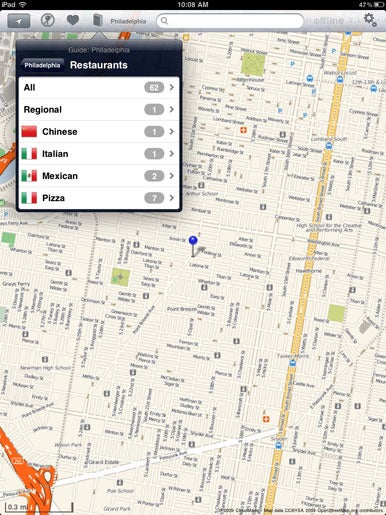 You'll end up spending that money if you use this app on both your iPhone and iPad. You only have to purchase the app once to install it on both devices, but that's the limit to OffMaps' syncing capabilities. If you buy a city guide on your iPad, you have to spend another token to download the same guide separately onto your iPhone. That's frustrating from a cost perspective, but it's also an obstacle to using OffMaps well: If you've bookmarked locations on your iPad, they won't show up in your iPhone, even if you've synced both devices back to your desktop computer.
Then there's download times. Downloading the Philadelphia guide to my iPad took more than eight minutes when I used my home Wi-Fi connection—and that was after I canceled my first attempt because of an expected download time of more than 15 minutes. The iPhone download, using the same Wi-Fi connection, was quicker: about five minutes. But you could be forgiven for wondering if it might not be quicker and easier to simply wander into a wired-up coffee shop to use your device's native Maps application, or even to grab a printed city map from the hotel lobby. There's little reason, in fact, to use OffMaps on any 3G-enabled device.
What's good about OffMaps, though, is that the maps you do use are quite detailed: People who still remember how to read a map will find the offerings here very helpful. Free Wikipedia entries on each city will help you get the lay of the local land. The crowd-sourced lists of local hot spots, though, are incomplete: for Philadelphia, only 62 restaurants are listed. And getting directions from the app is an unsatisfactory experience: Street numbers discombobulate OffMaps which means you can only plot trips between approximate locations.
OffMaps, as envisioned, is a tool you'll want to have in a pinch if you can't connect to online resources like Google Maps. But downloading and using the app requires more than a pinch of patience and preparation.
[Joel Mathis is a freelance journalist and political columnist for Scripps Howard News Service. He lives in Philadelphia.]