Mobile developer EuroSmartz plans to upgrade its iOS printing apps to allow iPhone, iPod touch, and iPad users to print from any AirPrint-enabled app to "almost every wireless printer," according to EuroSmartz CEO Ian Schenkel.
The newfound capability will be added to the 1.8 versions of PrintCentral for the iPad and iPhone and the universal PrintBureau app. The updates are expected to land in the App Store on Monday, with an official announcement from EuroSmartz set for Tuesday.
The new versions of PrintCentral and PrintBureau will also support background printing to USB printers connected to Wi-Fi networks via the company's free WePrint software that runs on either a Mac or Windows computer. Users of the iPhone/iPad software can download WePrint directly from the EuroSmartz Web site.
One of the heavily-touted features in iOS 4.2, AirPrint lets iOS devices print wirelessly to some HP ePrint printers. That severely limited the usefulness of the AirPrint feature for many users, particularly with Apple dropping the ability for Macs and PCs to share local printers with iOS devices from the current version of its mobile operating system.
Nevertheless, many developers have, since the release of iOS 4.2, upgraded their apps to support AirPrint, and EuroSmartz has managed to extend AirPrint's support for printers manufactured by companies other than HP.
"There is an increasing buzz around AirPrint and what it brings to the iPad and iPhone," Schenkel told Macworld. "However the overriding factor that is most dominant in blogs, forums and the press is that folks can't use an existing, non-ePrint wireless printer directly with AirPrint. PrintBureau and PrintCentral as standalone apps have had the ability to print directly to most Wi-Fi printers for over a year. These upgrades will combine the current capabilities with AirPrint and enable direct printing support to be shared in the background on an iPad or iPhone."
With the PrintBureau and PrintCentral upgrades—free to current owners of the apps—users running iOS 4.2 in multitasking mode can launch PrintBureau or PrintCentral, switch to another app, and then from the foreground app select "Print" or "Open in …" from the drop-down menu.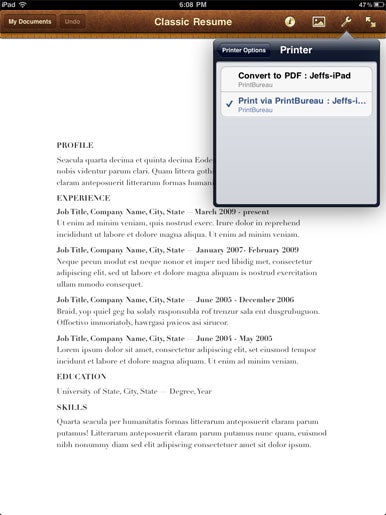 Choosing "Print," automatically brings up a dialog box of "Printer Options" that includes "Print via PrintBureau." When the document is ready to print, PrintBureau comes to the foreground. From there the app lets you choose from many options: you can print to any printer on your network, select the number of copies you want printed, specify a limited page range, choose duplex printing (if it is supported by your printer), specify paper size, choose a paper tray, select either portrait or landscape orientation, and even specify black-and-white, grayscale, or color printing, if these options are supported by your printer.
Users can also choose to save the document in PDF format. This mimics the Mac's "Save as PDF" option in the print dialogue box. The PDFs are stored within PrintBureau's file management system, and can later be printed from within the app or shared on a network.
Choosing the "Open in…" option provides the same options, but first pulls the document into PrintBureau's file manager.
As Schenkel points out, explaining how versions 1.8 of PrintBureau and PrintCentral work takes far longer and sounds much more complicated than the printing process itself. Macworld was able to obtain a beta version of the app and the upgrade seemed to work as advertised. Users should be cautioned that this was a far-from-thorough review, however; it involved printing from a limited number of apps on an iPad running iOS 4.2.
Schenkel says that AirPrint provides far fewer options operating on it own than PrintBureau and PrintCentral provide in conjunction with AirPrint. "This is a major breakthrough in the way people will be able to use and 'un-tether' their devices, making iPads and iPhones more useable than ever in day to day business life," he added.
PrintBureau and PrintCentral are EuroSmartz's keystone printing offerings. The hybrid PrintBureau costs $13, while PrintCentral costs $8 in its iPhone form and $10 for the iPad.