iPhone-using guitar heroes can plug-and-play with the new i-BLOX audio interface from RapcoHorizon.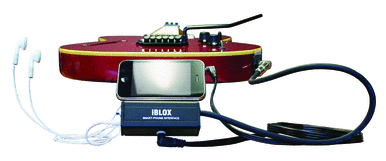 The company unveiled the device at last week's National Association of Music Merchants gathering—a music products trade show in Anaheim otherwise known as NAMM. Users can plug their guitar, headphones, and iPhone into the i-Blox, then fire up the guitar app of their choice and play. (The device is demonstrated in the video below.) The product—which is similar to IK Multimedia's $40 AmpliTube iRig and Griffin Technology's $30 GuitarConnect Cable—is being pitched for on-the-spot recording and as a personalized practice amplifier.
The device comes with a "bump switch" to start and stop the iPhone's music applcations; it also features a strap clip so the i-Blox can be attached to a musician's belt or guitar strap. There is also a 6-foot interface cable so that a player has a bit of room to roam while plugged into the phone.
The i-Blox costs $50, and is available through RapcoHorizon dealers.