Boston.com's award-winning photography blog is a natural fit for the iPhone and iPad. The Big Picture presents themed groups of photojournalistic images multiple times a week on the Boston Globe's Boston.com Website. The photos are presented in a large format with little editorial content, allowing the images to tell the story.
This concept is carried over to the universal iOS app, The Big Picture from Boston.com, where the visual focus translates nicely on the Retina display of an iPhone 4 or fourth-generation iPod touch, and the larger screen of an iPad.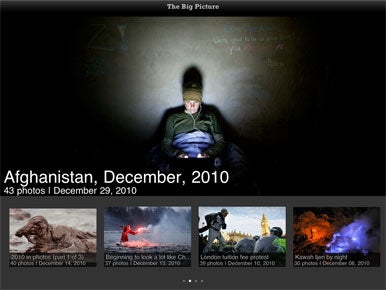 Upon launching the $3 Big Picture app, you're presented with a series of entries that you navigate by swiping left or right. (The latest entry appears first.) Entries are usually timely ("Christmas Around The Globe" appeared last month), and often political ("Scenes from the London Tuition Protests"), showing events from around the globe.
Each entry generally contains 30 to 50 photos, and begins with a short introductory paragraph. After that, you can swipe through the photos unencumbered by any additional distractions. The menu bar, navigation menu, and photo description fade away, leaving only the photo. (You can tap the photo to call those navigational tools back up as needed).
Whether it's the blog or the app, the strength of The Big Picture lies in photo selection. Each entry contains tremendous photography that is capable of telling a story on its own, and the design of the hybrid iOS app showcases this strength.
The Big Picture app aims to present photos in the least distracting manner possible, and it succeeds in doing so. But there's room for improvement—the app crashed more often than expected when loading photo sets. It also only allows you to access a few months of the blog archives; a full archive is available on the Web. The app's sharing options are also fairly limited—sharing an entry via e-mail launches the Mail app, when the same task could be accomplished from within the app. There is no option to post a link directly to Twitter.
The Big Picture is focused almost entirely on photography, and the iPad and iPhone are a great compliment for this. Still, for a paid app that doesn't offer anything more than what you get on the Web for free, the overall experience cries out for improvement.
[Macworld contributor Beau Colburn lives in Boston and posts iPhone photos on his site Snap different.]