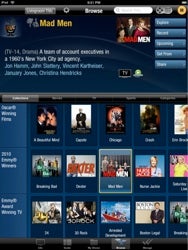 After TiVo teased "the world's most amazing remote control" two months ago, the company has finally delivered the goods: its official app for the iPad.
Simply called TiVo, the DVR pioneer's new app does double duty as a program guide and remote for TiVo Premiere and TiVo Premiere XL boxes. You can flick through your TV schedule on your iPad and view two weeks of upcoming programming, select a show to start watching on your TV, and schedule one-time recordings as well as Season Pass recordings, even when you've ventured out of your living room into the real world.
You can also browse your recorded shows on your iPad and start playing them on your TiVo. While you're watching, you can explore a show's cast and crew and, of course, post about what you're watching on Facebook and Twitter.
TiVo is a free app, though it requires either a TiVo Premiere or TiVo Premiere XL box and a TiVo account to be of any use. Your iPad will also need to be running iOS 3.2 or later.