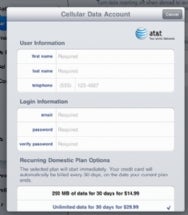 Cast your mind back to the summer of 2010: the Verizon iPhone was a glimmer in rumormongers' eyes, that day we would never forget was still months away, and a glitch in AT&T's Website allowed a "security" firm to acquire a huge list of iPad users' e-mail addresses. Now New Jersey district attorney Paul Fishman has filed charges against the two men responsible for the hack.
The two defendants, Daniel Spitler and Andrew Auernheimer, were each charged with one count of fraud and one count of conspiracy to access a computer without authorization. They are scheduled to appear on Tuesday in federal courts in New Jersey and Arkansas, respectively.
The incident came to light in June of last year, after Gawker got its hands on the list of 114,000 addresses belonging to owners of 3G-enabled iPads. Panic filled the streets, especially when it was disclosed that the addresses in question included those of high-profile folks like former White House Chief of Staff Rahm Emanuel, New York Mayor Michael Bloomberg, and CBS News anchor Diane Sawyer.
But the panic subsided when it became apparent that the only thing the hackers got were the e-mail addresses themselves. It didn't seem as though any iPads had been compromised, or even any e-mail accounts. In fact, the question arose whether this was even legitimately a hack or whether AT&T had just failed to properly secure their site.
Still, the FBI launched an investigation shortly thereafter, the end result of which will no doubt be disclosed when the bureau holds a joint press conference with Fishman on Tuesday.