This time of year, many developers are seeking to flex their muscles. On Tuesday, Namco Bandai showed off some very large biceps by unveiling TNA Wrestling Impact for the iOS and its latest casual puzzler, Bird Zapper.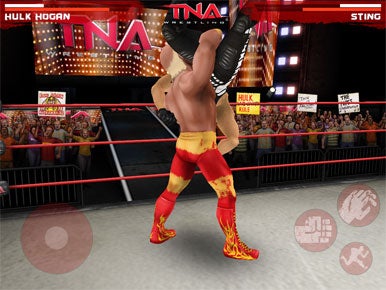 TNA Wrestling Impact is a pro wrestling simulator that features the likeness of dozens of famous wrestling personalities including Hollywood Hulk Hogan and Rick Flair. The graphics and full cast of wrestlers speak to Namco's commitment to creating the definitive wrestling brawler on the App Store. Everything from the campaign (which features betrayals, players jawing at each other during interviews, and life-like facial animations) to the Game Center support means wrestling fans will have something to look forward to when this game elbow-smashes its way onto the App Store.
You'll also be able to create your own wrestler, utilize signature moves, set your own entrance music, and battle your friends through Wi-Fi and Bluetooth multiplayer support. Look for this pile-driving title this spring.
Meanwhile, Bird Zapper may be Namco's answer to Angry Birds and match-three puzzlers like Bejeweled. The cartoonish graphics and gesture-based gameplay are a departure from what you'd normally expect from the developer's modern core offerings, but the addictive gameplay will hopefully continue in the proud tradition of games like Pac-Man.
At first glance, the game seems rather tame: Bird Zapper features dozens of colorful birds perched on telephone wires. How cute. But your goal is to zap a line of three or more of similarly colored birds with a quick gesture before they scroll out of view.
Ideally suited for quick play sessions, Bird Zapper provides variety in gameplay by offering powerups, multiplayer and additional modes that change the "match-three" rules a bit. The powerups will net additional points, freeze time, and more. The game's concept is just a little bit wicked, and the execution in the demonstration was smooth and instantly fun. The game's release date and price point are to be announced.