Microsoft has released OneNote, its first Office app for iOS.
OneNote is similar to apps like Evernote: It allows you to create different kinds of notes and then save them to the cloud. From there, you can access them from any Mac or iOS device.
OneNote has been available as part of the Office desktop suite for Windows for years (since Office 2003); there hasn't been, and still isn't, a Mac desktop client. Last year, Microsoft introduced a Web-app version of OneNote (along with Web versions of its other Office apps; you have to use that online version in your browser (Safari or Firefox) if you want to use OneNote on a Mac. And that Web app requires a free Windows Live account.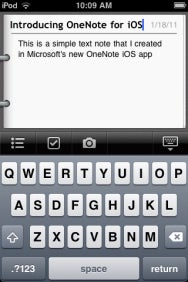 The new iOS app isn't as capable as the Web version or the Windows desktop client. On the iPhone, you can create notes containing plain text, checklists, or embedded photos. The Web app supports those plus tables, hyperlinks, uploaded graphics, and clip art; it also supports formatted text, using a ribbon-based interface like the Mac Office suite's. Unfortunately, some of those advanced data types and formats won't show up when you view those notes on your iPhone.
The OneNote app runs on all iOS devices though it's not optimized for the iPad's larger screen. It's available from the iOS App Store for free, though Microsoft says that pricing will be for a "limited time."