A merry holiday season helped Apple kick off its 2011 fiscal year with a stellar first quarter that blew away Wall Street expectations. Apple saw sales of $26.74 billion and a net profit of $6 billion—both quarterly records—for the three months ended December 25, 2010, the company announced Tuesday.
Sales grew nearly 71 percent from the $15.68 billion in revenue that Apple reported for the year-ago quarter. Earnings jumped 75 percent year-over-year to $6.43 per share, up from $3.67 last year.
Those figures blew away analyst estimates posted on Yahoo's financial site. Analysts were expecting the company to post earnings of earnings of $5.38 a share on revenue of $24.38 billion.
In a statement accompanying the earnings announcement, Apple CEO Steve Jobs said his company is "firing on all cylinders" and promised "exciting things in the pipeline." Jobs just began a leave of absence from his day-to-day CEO duties to focus on his health.
Surprisingly, none of the analysts who participated in Tuesday's conference call asked about Jobs or how long his leave of absence will last. (Unlike past leaves, neither the CEO nor the company have specified a return date.) However, chief operating officer Tim Cook, who is handling Jobs's day-to-day duties, was clearly alluding to the situation when asked to comment on Apple's long-term plans.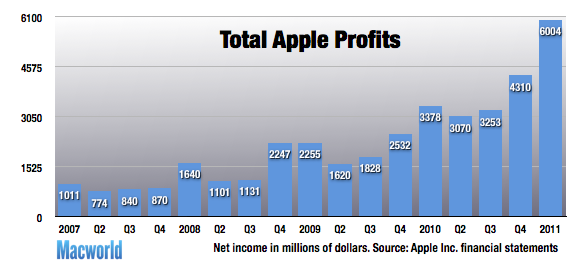 "In my view, Apple is doing its best work ever," Cook told analysts. "That we are all very happy with product pipeline, and the team here has an unparalleled breadth and depth of talent and a culture of innovation that Steve has driven in the company, and excellence has become a habit. And so we feel very, very confident about the future of the company."
iPads and iPhones
The numbers reported by Apple Tuesday would justify that confidence. Much of the credit for Apple's strong quarter goes to its iOS devices, with both the iPad and the iPhone racking up impressive sales during the holiday season.
Apple only introduced the iPad in April 2010, but the tablet continued its blistering debut, racking up 7.33 million in unit sales for the holiday period. That figure nearly matches the total number of iPads sold by Apple during its 2010 fiscal year (although the iPad was only available for the second half of the year) and tops the 4.19 million tablets sold by Apple during the previous quarter.
Apple is "thrilled with the [iPad's] momentum and customer interest," chief financial officer Peter Oppenheimer told analysts during Tuesday's briefing with analysts.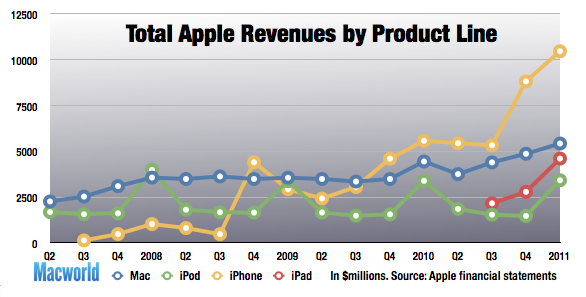 Recognized revenue from iPad sales reached $4.61 billion for the quarter. That gives Apple an average selling price of $600 for the tablet.
iPhone sales figures were equally impressive, with Apple selling 16.24 million smartphones during the holiday season. That's an 86 percent jump from the year-ago iPhone sales, compared to 70 percent growth for the overall smartphone market, according to Oppenheimer.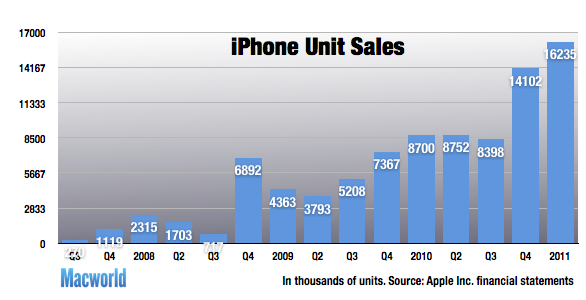 Recognized revenue from iPhone handsets rose 84 percent to $10.74 billion during the fourth quarter. The iPhone enjoyed an average selling price of $625.
By the end of the first quarter, the iPhone was now offered by 185 carriers in 90 countries. Growth was particularly strong in the Asia Pacific and Japan markets, where phone sales doubled.
Apple is looking to goose iPhone sales during the coming quarter in the U.S., with last week's announcement that Verizon would begin offering a CDMA-based iPhone that competes with AT&T's GSM iPhone. "We are thrilled to offer iPhone 4 to Verizon's 93 million customers as well as new customers who wants iPhone 4 on Verizon," chief operating officer Tim Cook said. "We're going to do anything possible to get iPhone into as many customers' hands as possible."
With the first quarter sales numbers now in the books, Apple says that it's sold 160 million cumulative iOS devices.
Record Mac sales
Mac sales were also strong, rising 23 percent from the year-ago quarter to 4.13 million units. That's a record number for Mac sales topping the previous mark of 3.89 million Macs set during the fiscal fourth quarter of 2010.
Portable computers continue to fuel Apple's Mac sales. With 2.9 million portables sold during the fiscal first quarter, laptops now represent seven of every 10 Macs that Apple sells. A year ago, portables represented 63 percent of Apple's Mac sales.
Oppenheimer credited Apple's revamped MacBook Air and continued strong sales of the MacBook Pro for the record Mac sales. Apple unveiled new MacBook Airs in October that featured a new design and introduced an 11.6-inch model to go with the 13.3-inch configuration.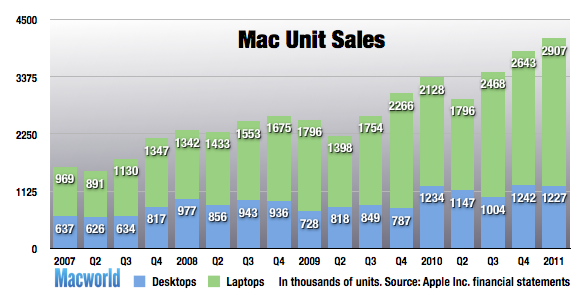 Apple saw Mac sales growth across all its geographic regions, with growth particularly strong in its Japan and Asia Pacific segments. Mac unit sales rose 54 percent and 65 percent, respectively, in those regions.
The 23-percent growth in Mac sales was eight times the 3 percent growth predicted by research firm IDC for the entire PC market, Oppenheimer said. That marks the 19th consecutive quarter that Apple's Mac business has grown faster than the PC market as a whole. And yet, Cook pointed out, the company still has a relatively small share of the computer market. "It would seem like there's still enormous opportunity there," Cook said.
While the Mac App Store launched after the end of the fiscal first quarter, Apple executives still noted that it passed the 1 million download mark a short time after launching. "We're very pleased with the customer response," Oppenheimer told analysts.
iPod decline continues
iPod sales bucked the trend with a decrease from the 2010 first-quarter. Apple sold 19.45 million musical players, a 7-percent dip from last year. This was the seventh consecutive quarter where iPod sales fell from the year-ago period.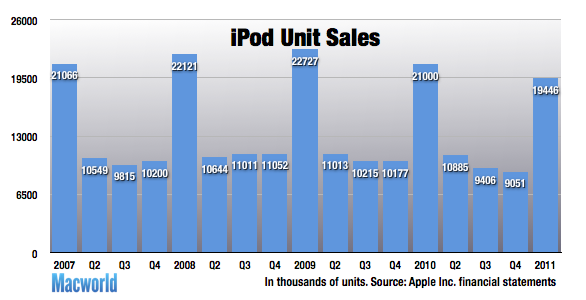 Still, Apple found encouragement in the growth of the iPod touch, which now accounts for half of all iPods sold. Sales of the iOS-based music player grew 27 percent year-over-year. Tuesday's briefing with analysts marked one of the first times that Apple has broken out its iPod touch sales figures from the rest of its music player segment.
Apple also touted the performance of its iTunes Store, which saw its revenue top $1.1 billion for the quarter. iTunes users now rent and buy more than 400,000 TV episodes and 150,000 movies each day. Apple extended rentals to TV programs in September.
Retail returns
Apple saw some of its most impressive gains in the retail segment. Revenue nearly doubled from $1.97 billion last year to $3.85 billion for this quarter. The number of Macs sold through Apple's brick-and-mortar stores jumped 24 percent to 851,000 units. About half of those sales were to customers new to the Mac platform.
After opening six stores, Apple ended its quarter with 323 retail outlets. Eighty-seven of those stores are outside the U.S.—a significant point as volume at Apple's overseas stores exceeds the volume in the U.S., according to Oppenheimer.
With an average of 321 stores open throughout the quarter, Apple tallied average revenue per store of $12 million, a 69 percent jump from the 2010 first quarter.
Future forecasts
Apple ended the first quarter with $59.7 billion in cash and short-term investments, an increase of $8.7 billion since the end of the fiscal fourth quarter.
For Apple's fiscal second quarter, which ends in March, Oppenheimer told analysts to expect revenue of $22 billion and earnings of $4.90 per share. That compares to $13.5 billion in sales and earnings of $3.33 per share in the 2010 second quarter. Prior to Tuesday's call, analysts were looking for earnings of $4.43 per share on $20.62 billion in revenue.
Updated at 2:35 p.m. PT to include more information on Mac sales. Updated at 2:58 p.m. PT to include more information on iPod sales and retail figures. Updated at 3:35 p.m. PT to include information on iPad and iPhone sales and Apple's forecast for the fiscal second quarter. Updated at 3:50 p.m. PT with comments from Tim Cook. Updated at 4:17 p.m. PT to correct a transcription error with a Tim Cook quote. Updated at 6:25 p.m. PT to correct an error in the product-line revenue chart and change an "m" to a "b." Millions, billions, what's the difference among friends?