It seems as if Sega is going to be releasing their entire back-catalog of games onto iOS and, while Sega fans couldn't be happier about this conceptually, these ports to iOS have been of varying quality—and some of them have even become divisive among fans. Sonic Spinball, Sega's $3 release of the old Genesis game, is a good example of this division, as there are those who are disappointed by the glitchy and lackluster frame rate and paltry selection of pinball tables, while others love it for the way it's centered an entire game around a much beloved portion of Sonic 2: the Casino Zone "flipper section." I tend to side with the latter group on Sonic Spinball; while it's not a great pinball game, its unique gameplay is definitely worth checking out for casual fans of the Sonic franchise.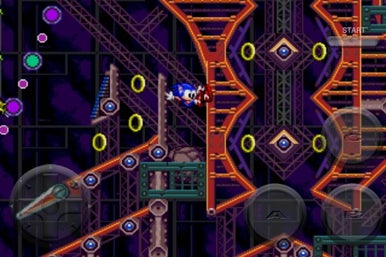 The goal of the game is to collect the Chaos Emeralds in each level, which are laid out like pinball tables. Collect three and you'll get to face the nefarious Dr. Robotnik. The biggest difference between Sonic Spinball and traditional pinball games, of course, is that you will not be flippering and controlling a metal ball, but, instead, the blue-headed hedgehog himself. Because you're controlling an actual character, you have some mobility while in the air, and as a result, there's no left and right-thumb-flipper control as there would be in traditional pinball, only a D-pad (to control Sonic's movement) on the left along with three virtual buttons on the right side of the frame to operate your left flipper, right flipper, and both (respectively). The controls can be a bit difficult to get used to, and if you're more comfortable with traditional pinball controls, it can be awkward. (This raises a related issue: if you're someone who plays pinball for the time-honored, kinetic, tactile experience of the conventional arcade game, you might want to avoid Sonic Spinball – and iOS pinball games – altogether.) All in all, however, my experience with the controls was positive. Few glitches were found, and you get used to the set-up.
Hardcore fans may be disappointed to find that Sonic Spinball boasts the same 16-bit graphics it had on the original Genesis version, and even after numerous Spinball re-issues, the gameplay experience remains largely the same as it appeared in the early '90s. (Though there is the choice between native resolution and full screen!) Yet, for casual gamers, Sonic Spinball is worth the download because there really aren't many other pinball games like it, as it combines pinball gameplay with occasional side-scrolling, video game sections. You get to defeat bosses, collect emeralds, and even a few classic Sonic characters make cameos.
For those reasons, Sonic Spinball gets my blessing. I can't promise there won't be sound hiccups or frame rate nose-dives now and again, but the game is unique enough in appeal to non-hardcore Sonic fans.
[Rip Empson is a frequent contributor to Macworld.]