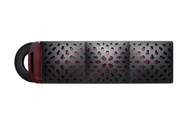 Aliph on Thursday unveiled the Jawbone Era, its newest Bluetooth headset. Clearly from the same school of design as predecessors in the Jawbone line, such as the Icon and the Prime, the Era adds a new wrinkle to the world of Bluetooth earpieces: an accelerometer.
Beyond its single button, the Era also responds to taps and shakes. You can double-tap the Era to answer calls, end them, or switch between them. And if you don't yet have the Era in your ear, you can use a double-shake to trigger those actions, or a quadruple-shake to enter pairing mode.
Also new with the Era is something Aliph describes as "HD audio." By applying version 3.0 of the NoiseAssassin technology that the company already uses to reduce noise and maximize the clarity of your outbound audio to incoming audio, the Era promises better sound both for you and your callers. And since the Era supports the A2DP standard, that means you can listen to other audio—like iTunes, Pandora, and the like—in very high quality.
Like the Icon, the Era offers integration with Aliph's MyTalk suite of apps and customizations, which let you download replacement voices, post status updates via dictation, and more. A new app exclusively for Era enables Caller ID with the actual names of your callers spoken aloud.
The Era will be available in four unique styles: Shadowbox (black metal), Smokescreen (brown copper), Midnight (black over a red background), and Silver Lining (silver over a white background). The device costs $129, and is available now from Aliph's Jawbone Website, with availability in Best Buy, AT&T, and Apple stores beginning January 23.