If you're a fan of the Food Network's shows and personalities, you will probably enjoy the network's $2 In The Kitchen app for iPhone and iPad. The app is a virtual cookbook featuring 45,000 recipes from the network's top personalities, ranging from Paula Deen's easy-to-prepare comfort dishes to the more-demanding creations of New York chef Mario Batali.
In The Kitchen can be a charming cookbook at times. It offers recipes for a range of occasions, from appetizers to "comfort food" to side dishes, with photos and straightforward, step-by-step instructions to guide preparation. What's more, the app evolves throughout the year, featuring seasonal recipes. As Thanksgiving approached in mid-November, for example, the app offered a series of mouthwatering menus—ranging from "Classic Thanksgiving" to "Potluck Feast For Less"—to guide users with a variety of tastes and budgets.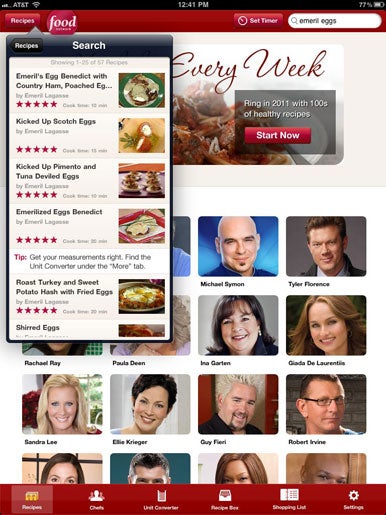 There are other handy features. Users can click on ingredients within recipes, adding them to a master shopping list that can be viewed directly on the app or shared by e-mail. There's also a calculator that assists users in converting tablespoon measurements to teaspoons, as well as the ability share recipes with friends via e-mail, Facebook and Twitter.
Navigating the app can be challenging, however, although the Food Network has already made improvements to that experience with its recent Version 1.1.5 update.
The home page of the app's iPhone version, for example, features two items: A link to its seasonal menus, and a roster of Food Network chefs. But where are the regular recipes for everyday cooking? They were impossible to find in the original version of the app, but the December update solved the problem—somewhat—by featuring popular topics in the app's search tool.
Recipes are easier to find on the iPad version of the app—tap a small button in the upper left-hand corner of the home page (when in portrait mode) which is otherwise-dominated by the Food Network's celebrity chefs. The self-promotion wouldn't be frustrating, though, except it's not helpful: Tap on a chef's face (in both the iPad and iPhone settings) and you're flooded with the full list of their recipes, with no apparent organizing principle to help you find what you want.
Emeril Lagasse has more than 5,000 recipes on the app, for example, but the Food Network only lets you start with his "top recipes" and work your way down the list. If you want Emeril's breakfast ideas, you have to use the search engine—and know what kind of food you want to make. "Emeril breakfast" turns up 16 results, but only his recipes with "breakfast" in the title. There are, however, 57 of his recipes featuring eggs.
There are other small shortcomings. If you want to bookmark a recipe for later use, you must leave the app to register with FoodNetwork.com. That's annoying, especially after you've forked over $2 for the app. And there's no video to guide cooks—odd, because the network's free Food Network Nighttime app offers entire episodes of some shows for viewing.
Despite those shortcomings, In The Kitchen might still deserve a place in your kitchen, at least on the iPad. There are lots of good recipes on here, if you can only figure out how to find them.
[Joel Mathis is a freelance journalist and political columnist for Scripps Howard News Service. He lives in Philadelphia.]