Editor's Note: The following article is reprinted from Macworld UK. Visit Macworld UK's blog page for the latest Mac news from across the Atlantic.
The Cockpit Recorder iPhone app, which simultaneously captures video and audio from the inside of a vehicle has been updated.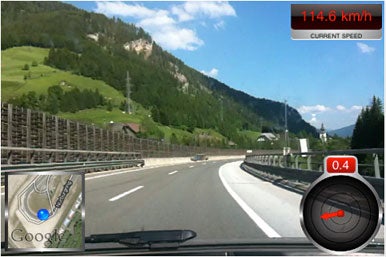 Version 2.0 of Cockpit Recorder offers you the chance to export your videos, though you do need to pay a one-off fee of $9. For a limited time, though, this function is available for $3.
The app itself, which also measures and records G-forces, location data and speed, is free to download. It is only compatible with the iPhone 3GS, iPhone 4, and fourth-generation iPod touch running iOS 4.0 or later.
Cockpit Recorder is the creation of SIS software, the company behind My Measures & Dimensions, which itself was updated in November 2010.
My Measures & Dimensions lets you take photographs of objects or the interior of a room and add measurements, so they can be stored and shared easily.
Though designed with construction professionals in mind, this could come in handy when moving house, for example, or decorating a room. The My Measures & Dimensions app costs $5.