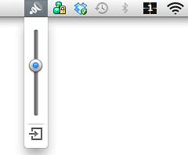 The show floor at Macworld Expo is a noisy place. It can be difficult to hear a person talking to me, or hear a Mac's sound during an audio demo. But when I visited Global Delight, I was able to hear their Macs clearly, because they were showing their new software utility called Boom.
Boom boosts the sound volume beyond the top volume available through the Mac's sound controls. It's accessible through a menu bar icon, where a volume slider bar adjusts the volume.
If you click on the icon underneath the slider bar, it opens the Boom app. The volume slider bar here has a bit more detail. It shows where your regular maximum volume is, and how much you can boost volume beyond that. Boom also has Equalizer settings you can apply so you can tweak the sound quality.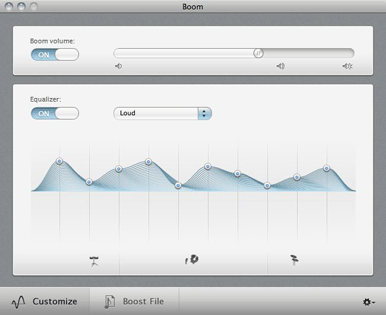 Boom can also modify individual sound files so the sound is louder. You can pick songs in iTunes as boost them; modified files don't replace the original. You can't modify saved video files, however; that's a feature Global Delight is working on for future versions.
Apple currently sells more laptops than desktops computers—and while MacBook speakers are decent, they're still small and have limited range. Boom can be helpful when you're playing video or music for a small crowd, and you don't have (or don't want to carry) external speakers.
Macworld editors were so impressed with Boom that it was recognized with a Best of Show award. We do plan to take a closer look at Boom to gauge the boosted audio's quality, to see how well the Equalizer works, and to dive a little deeper into the modified sound files. Look for a full review soon.
Boom is available directly from Global Delight for $5. A Home Pack with licenses for two Macs is $7. A Family Pack with licenses for five Macs is $10.