Don't look now, but adult magazine Playboy is coming to the iPad in March—and it won't be censored. The magazine's founder, Hugh Hefner, tweeted the news Wednesday morning, adding that the entire back catalogue will also be available uncensored.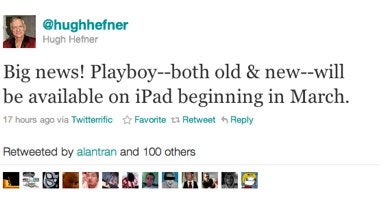 Though the App Store guidelines prohibit pornographic material, Playboy has maintained an official app in the App Store with censored content. However, some have theorized that the company could bypass Apple's restrictions by giving users access to issues over the Web via Mobile Safari. According to Hugh Hefner's tweets and comments that Playboy spokeswoman Theresa Hennessey provided to Computerworld, the company plans to do just that.
For those hoping that Apple has softened its contentious App Store policies regarding adult content, please remain seated. To work around Apple's rules, Playboy will offer a Web-based subscription service in March that will give users access to every issue ever published. Readers will access issues through Mobile Safari on the device, rather than an app from the App Store. The company is using Bondi Digital Publishing, which has previously digitized the archives of Playboy and Rolling Stone for digital distribution.
There's no information yet on pricing for the iPad-compatible Playboy, but it will likely be similar to the online edition, which currently costs $8 per month when billed annually and $20 when billed monthly.