Editor's Note: The following article is reprinted from Macworld UK. Visit Macworld UK's blog page for the latest Mac news from across the Atlantic.
A version of cross-platform instant messaging app Agile Messenger has been launched for the iPad.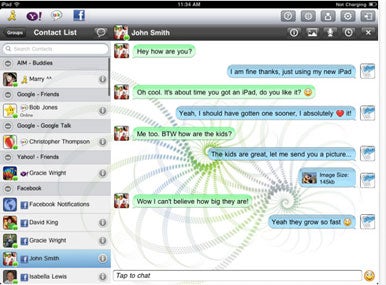 Agile Messenger HD is available in Lite and Pro versions. The Lite version is free but only provides access to Facebook's instant messaging service, though you do have the option to buy access to additional IM networks within the app.
The Pro version provides unrestricted access to all IM networks and costs $3. Both offer push notifications as standard, as well as voice and picture messaging.
There is an Agile Messenger app for iPhone already available, launched in 2009. However, that offering costs $10.
"We are very pleased with the results of our development efforts," said Timon Haringa, technical director and co-founder of Agilemobile.com Ltd.
"Rather than doing a quick port of our existing iPhone client to get an iPad version published as fast as possible, we redeveloped our product from the ground up specifically for the iPad and the additional screen real estate that it offers," Haringa continued.