Iambic's Agendus app is meant to be a replacement for or enhancement to your current task management application, whether you're using Google Calendar, iCal, or some other task management application. Agendus is also available separately as an iPhone and iPod touch app, but for the purposes of this review I used the iPad version of the app.
No surprise, Agendus works as a standalone calendar application, which you can use to keep track of calendar events and to-dos. It also links to your iOS device's address book and it's able to pull your contact's birth date—if you have it in your address book—and add it to your calendar. While the calendar can be useful by itself, you're better served when you link it to your Google Calendar account and sync the data between Agendus and Google. Agendus does not sync with iCal or MobileMe, so if you use those tools you'll need to synchronize them separately with Google Calendar.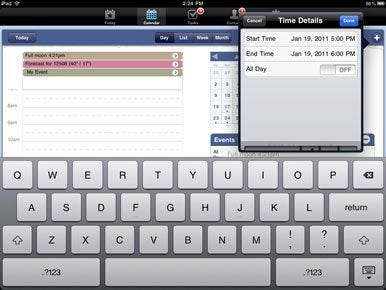 If you've seen any Agendus reviews on the App Store, you've no doubt noticed that there are many complaints about how the app performs and whether or not it works properly. Up until the January 18 release of the 2.4 update, those complaints were entirely justified. The current release of the app resolves many of the issues that users complained about, but, unfortunately, Agendus still has some particularly egregious issues.
Agendus behaves so poorly when creating new tasks that it can be very frustrating to use and, at times, nearly useless. For example, after creating a new task, typing its name in the New Task field, and then attempting to make changes to other parts of the task (change the task's icon, due date, time, and so on), the name of my task had disappeared when I returned to the New Task popover. Furthermore, when using the app in landscape mode and using the touchscreen keypad, it's impossible to change the task's date and time because the keyboard obscures the Date and Time Picker. The onscreen keyboard also interfered with other aspects of Agendus, making it impossible to see some calendar and application preference screens. These issues can be resolved by using the keyboard's hide button or switching the app to portrait mode, but this is a very inelegant way to handle these problems.
Iambic's Agendus is a nice attempt at a task manager, but it still works too poorly to be of any real use. You're better off sticking with your built-in calendar app or choosing any of the many other calendar apps, such as Pocket Informant, available for your iOS device.
[Jeffery Battersby is an Apple Certified Trainer, (very) smalltime actor, and regular contributor to Macworld. He writes about Macs and more at his blog.]