At this week's Golden Globes awards ceremony, both trophies for best motion picture went to movies that were edited using Apple's Final Cut Studio—a coup for the company that's still fighting for market share among filmmakers.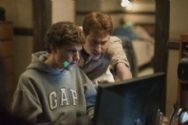 The Social Network won the award for Best Movie Drama, while The Kids Are All Right took the nod in the Best Movie Comedy category. Both were edited using Final Cut, a detail that may be particularly notable in the case of the former flick. The Social Network director David Fincher—the auteur behind Fight Club, Zodiac and Seven—has long been lauded for his editing acumen and cool visual style.
At this point, though, it's not news that Final Cut can be associated with cinematic success. Nine of last year's 10 Oscar-nominated documentaries were edited on Final Cut Pro. The software was also used to put together 2008's winner of the Oscar for best picture, No Country for Old Men. The opening montage for the Oscars' own television broadcast has even been edited using Final Cut.
The numbers, though, indicate that the Apple software is in third place for market share among professional filmmakers—an unaccustomed position for a company that likes to rule its product categories. A 2009 survey of members of American Cinema Editors indicated that 87 percent of members edit their films on Macs—but just 19 percent used the Final Cut software. Avid's Composer Mojo DX was in first place with 41 percent of editors, followed by Avid's expiring Adrenaline system, which was used by 27 percent of editors.