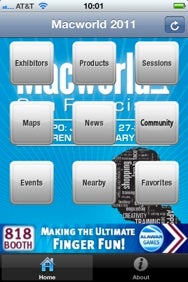 It's almost that time of year again—when tens of thousands of developers, manufacturers, and fellow Apple enthusiasts descend upon San Francisco to talk shop and show off goods at Macworld Expo. To help you get the most out of your trip, Expo organizers have updated iMacworld, your one-stop guide to everything on and off the show floor.
Of course, some of the most important additions in iMacworld 3.0 are up-to-date lists and maps of all the exhibitors, sessions, and products that you can check out at the 2011 edition of the Mac trade show. And since this will be the first Macworld Expo with iPads running around, the app is now universal for every mobile Apple device running an operating system with a name that begins with an "i" and ends with an "S."
But the latest version of iMacworld also delivers another much-requested feature—community discussions. The discussions feature is powered by AskLocal, a location-based service that lets you post messages in a specific area. iMacworld will prompt you to install the AskLocal app, and the next time you run iMacworld and go to the discussions section, a custom Macworld tab will be added to AskLocal. This should allow expo goers to keep an eye on what's happening at the conference, crowd-source ideas, and announce impromptu meetings that only folks in the local area can see.
The iMacworld app should be pretty useful throughout the expo, as Macworld 2011's organizers will push things like catalog updates and session descriptions straight to the app without the need for an update from the App Store. Some tips for using the map might also come in handy: you can tap-and-hold on a booth to display its exhibitor's name, or just tap a booth to go straight to its exhibitor info page.
iMacworld 3.0 is a free app available now in the App Store. As long as your iPhone, iPod touch, or iPad is running iOS 3.1.2 or later, you might as well start planning your floor strategy.
Expo organizers IDG World Expo and Macworld are owned by the same parent company. This year's expo runs from January 26-29, with the show floor opening on January 27.