TinyTube is an over-simplistic hybrid app from Katrina Read, TinyTube does just two things on the iPhone and iPad: it provides access to YouTube videos you've marked as favorites. And it strips away all information (and links) connected to the videos.
The purpose of TinyTube is to enable parents to control what their small children view via YouTube: You preview videos before you "Favorite" them, and make sure they're what you want your child to watch. TinyTube displays only the most recent 24 videos you've favorited.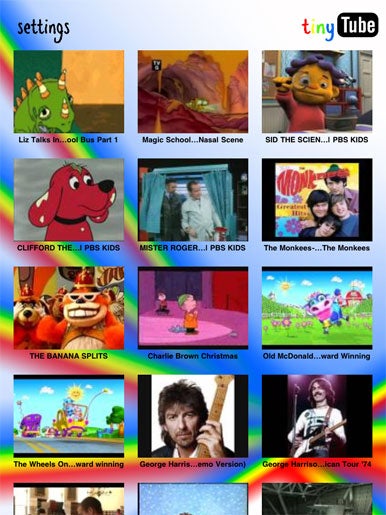 This could prove helpful for some, and the app works as advertised: sign into TinyTube using your Gmail/YouTube username and password, and what you see is the entire interface: thumbnails of up to 24 favorites. Unfortunately, this approach also means one of two things: either you can no longer favorite videos you yourself would like to watch (or watch again), or you have to set up a separate YouTube account for your kids.
As a parent myself, neither approach seems appealing. If I have to watch a video to preview it for my child, I'd rather just watch with her—there's no time savings in the preview, and it only takes a quick tap of the space key to pause any video if things start to get inappropriate. This app may serve a real need, but it seems better served on non-mobile platforms by KidZui's ZuiTube. According to the ZuiTube Web site, the company plans to develop an iPhone/iPad version, but it offers no timeline.
[Jeff Merron is a freelance writer and editor living in North Carolina.]