Editor's Note: The following review is adapted from Five Star Apps: The Best iPhone and iPad Apps for Work and Play by Glenn Fleishman. (2010, Pearson Education and Peachpit Press).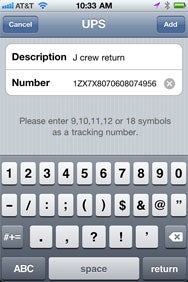 Simply designed, Parcel from Ivan Pavlov includes support for 28 delivery services. Major shippers like FedEx, UPS, and the US Postal Service are all included. The app, which is optimized for the iPad as well as the iPhone and iPod touch, shows a few shippers by default; use the Settings app to add others or remove those displayed.
A built-in barcode scanner lets you add a tracking number from a package you're sending by snapping a shot of the label. This saves the tedious entry of long tracking codes.
Parcel shows the full transaction history as a package changes hands from shipper to your door without requiring an extra tap. Pay $2 in an in-app purchase to track more than three shipments, and enable push notifications.
[Glenn Fleishman is a frequent contributor to Macworld.]