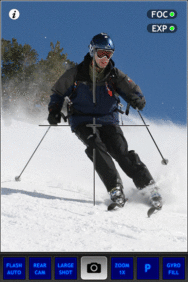 Apps that cut down on iPhone photo blurriness have been around almost since the device's camera first appeared, but a new offering uses the iPhone 4's gyroscope as an added tool to help steady those shaky-handed shots.
The new gyroCam, an offering from Hunter Research and Technology, debuted this week in the App Store. Previous camera-stabilization apps—like ProCamera, Camera Genius, and ImageStabilizer—relied on the accelerometer in the iPhone 3G and 3GS to cut down on those annoying blurry shots. The gyroCam app uses that technology, as well, but adds a second steadying touch by utilizing the new gyroscope in the iPhone 4 and fourth-generation iPod touch, with graphical cues that help a user frame a level 4:3 image of the scene they want to capture.
The app also features burst and timer shot modes, digital zoom, focus and exposure indicators, and flash control. It works on both the front- and rear-facing cameras of the iPhone 4.
You can pick up gyroCam for just $1; it's compatible with any iPhone or fourth-generation iPod touch running iOS 4.0 or later, though obviously only iPhone 4 owners will be able to take advantage of the new gyroscope-aided feature.