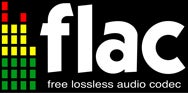 Both iTunes and iOS devices support several digital audio file formats, including AAC, MP3, WAV, AIFF, and Apple Lossless. The first two are lossy, compressed formats (providing for small files), while the next two are uncompressed formats (resulting in huge files). The last, Apple Lossless, is a compressed-yet-lossless format. It falls somewhere in between in terms of file size, but doesn't sacrifice sonic quality in the process (although debates rage about how much difference it makes).
If you're a fan of lossless music, however, you probably know that Apple Lossless isn't the only game in town. In fact, FLAC (Free Lossless Audio Codec) has been around for almost a decade (whereas Apple Lossless came along a few years later), and is widely used for sales of live and some studio releases (check out the catalog list of Nugs.net's Livedownloads site, for example), as well as classical music. And, using free software such as X Lossless Decoder (XLD), you can convert to and from FLAC.
Keep in mind that iOS devices have limited storage, and that FLAC files take up more space than lossy files; 250MB to 400MB per hour, compared to, say, 256-kbps AAC files, which requires about 115MB for the same amount of music. Also, music quality amy be less of an issue when you're listening on an iOS device—your headphones might not allow you to hear the difference, and you're often outdoors or in noisy environments. So whether or not it's worth using FLAC on your iPhone or iPad is up to you. But if you have a collection of FLAC files, you might prefer to listen to them as is on your iPod touch or iPhone rather than convert them to a different format.
Neither iTunes nor any Apple hardware natively supports FLAC files, but there are apps that can let you listen to FLAC files on your iOS device: Dan Leehr's $10 FLAC Player, and FastIntelligence's Golden Ear (currently $6 at its introductory price of 40 percent off). Both are universal apps that run natively on the iPad, iPhone, and iPod touch.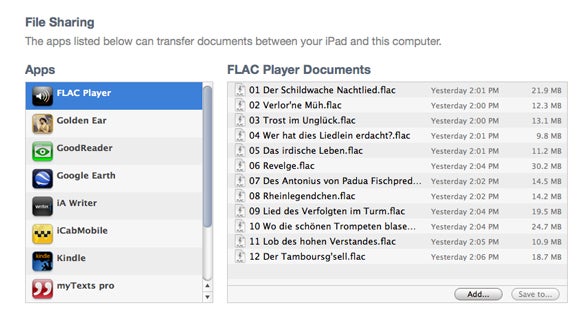 For both of these apps, you'll need to manually add the FLAC files to your iOS device using iTunes' File Sharing feature. When the device is connected to your Mac, click on it in iTunes, then click on the Apps tab, and look at the File Sharing section. Click on the name of an app, then drag files to the field to the right.
When you launch FLAC Player, you'll see a list of "collections," which are groups of music organized by their album tags. You can edit the names, or tap on one to view its contents; tap on a track to start playing. FLAC Player also handles artwork, and you can add artwork via iTunes' File Sharing as well, then apply it to individual tracks. Playback is as you would expect: the interface is similar to that of the Music app on your iOS device. You can also add text files to read while listening to your music: using iTunes' File Sharing, add them to the app, and select them for the collection. These can be .txt, .pdf, or .doc files, with track info, lyrics, album notes, and more. While you can't create playlists, you can add info to your files' tags so they get grouped in collections; to do so, use a application like Stephen F. Booth's free Tag metadata editor.
Golden Ear is similar to FLAC Player, but offers a number of esthetic options with "themes," which, on small devices (iPhone or iPod touch) are merely colors for fonts and list backgrounds, but on the iPad these include a number of background pictures that, while attractive, can make it hard to read the names of tracks. Golden Ears doesn't group files in collections like FLAC Player, though, and it's difficult to choose from the single list of songs it displays. The app does, however, display artwork that is embedded in FLAC files, something that FLAC Player doesn't do. Golden Ears also offers shuffle and repeat playback options, and supports cue sheets.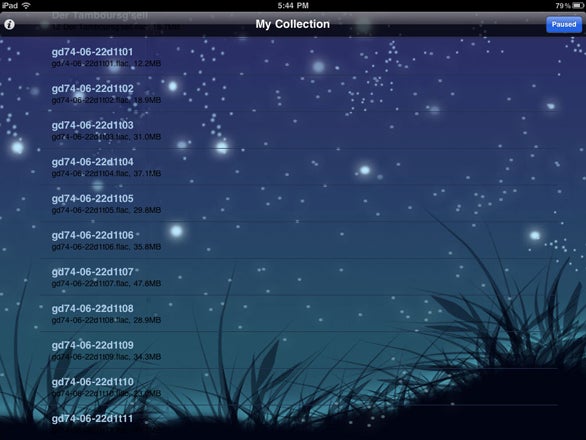 Both of these apps are bare-bones, being little more than basic players. Given that users aren't likely to store a lot of FLAC files on their iOS devices, the lack of organizational features is a minor annoyance, but Golden Ear's single list is highly impractical. It would be much better if users could create albums and playlists more easily, and, at least, search for files within these apps. Much more is needed to make either of these apps a serious music playback tool. But FLAC support is, on its own, a compelling feature for those who use this type of file.
[Senior contributor Kirk McElhearn writes about more than just Macs on his blog Kirkville . Twitter: @mcelhearn Kirk's latest book is Take Control of iTunes 10: The FAQ .]