If you're an iPhone or iPad app enthusiast, you're probably familiar with the tedious procedure Apple mandates for developers testing new versions of their apps. But there is an alternative: TestFlight is a new service, just out of private beta, that brings the joy back to iOS beta testing.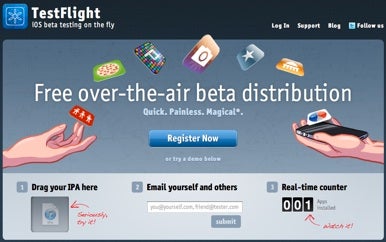 Helping a developer beta test a new version of an iOS app before it is submitted for approval usually goes something like this: First, you track down your device's UDID (its unique identity code) and send it to the developer, who manually adds it to their pool of testers in the Apple Developer Center.
The developer then e-mails you a testing copy of the app along with a provisioning file (a sort of temporary license for the app), both of which you have to drag into iTunes before syncing your device. Rinse and repeat for every developer you help test apps for, and every app you help test. Yeah, it's delightful.
Thanks to iOS 4, TestFlight can alleviate most of the pain of iOS beta testing. The service leverages some of the wireless app installation features that Apple added in iOS 4, which were designed mainly for in-house enterprise apps. TestFlight acts as a bridge between the developer, the tester, and the Apple Developer Center.
With TestFlight, developers don't have to manually distribute files, and users don't have to deal with iTunes's penchant for choking on ad-hoc installations. Instead, developers just upload their apps to their TestFlight account for testing. Users, on the other hand, get a Web-based dashboard (optimized for iPhone and iPad, of course) with a list of apps they can test from each developer they've signed up to help. Justin Williams of Second Gear Software (a TestFlight user) explained to Macworld that developers can even create distribution lists with a subset of users who are willing to test some of the really cutting edge or experimental updates.
But the best part of TestFlight—at least, for end users—is that it just takes one tap in your TestFlight dashboard to install an app wirelessly. You'll still need to manually send your UDID to the first developer you test apps for, perhaps using one of the many UDID apps that simplify the process. But, once you do the UDID song and dance with one developer, other developers can invite you into their testing circle with a simple TestFlight e-mail.
TestFlight was in private beta for some time and, though it's now shed the private aspect, it still retains the beta badge. Any interested developer can sign up for the service, which the company is offering for free—at least for the time being. Simple instructions help developers get started with TestFlight's services, while you, the aspiring tester, will need at least iOS 4.0 installed on your iPhone, iPod touch, or iPad to take advantage of this simpler and smoother system for helping developers polish their apps.