Though they share the same title, Braveheart for iOS from Gaijin Entertainment has no relation to the Academy Award winning film from 1995. However, they do share lots of action and plenty of killing. In this action role-playing game, you play as Richard, a knight sent by King Wilhelm to retrieve the Holy Grail. But the task is not an easy one: to save the day, you'll have to confront the Great Dragon which guards the prize.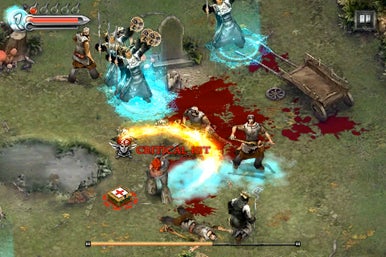 Before you can even start thinking about the Great Dragon, you'll have to traverse the countryside battling wave after wave of foes in typical action-arcade game fashion. But Braveheart is also part role-playing game in which you'll customize your character's weaponry and other skills. In a top-down view of the world, you tap to move your character about the landscape as literally hundreds of enemies descend upon you. Early in the game, you're armed with a simple flail to dispatch nearby enemies, and switching to a crossbow allows you to eliminate enemies at a distance. While the flail will spin with a quick swirling gesture of your finger, a two-tap gesture switches and fires arrows in the direction of the second tap. While it seems complicated, picking up the nuances of the controls is actually mastered in a matter of seconds. As you progress through the campaign, you can collect gold and experience points to level up.
At first, I found the huge numbers of enemies to be repetitive and a bit exhausting, but after hanging in there, the challenge became addictive. I also looked forward to the variety of enemies and their unique weaponry and spells. To move through the stages, you'll have to control your position on the map to gain a tactical advantage and choose weapon changes carefully. Dropped objects from the fallen and other earned perks are essential to success— you must watch your health closely and quickly assess your priorities and reevaluate them constantly. The entire game is beautifully presented against an interesting storyline with detailed graphics whose framerates never seem to suffer from all the action that unfolds.
Unfortunately, Braveheart is not a universal app. You'll have to purchase Braveheart HD for the iPad and Braveheart for iPhone and iPod Touch. If you have an iPad, the extra cost is definitely worth it. You'll get a much better view of the battlefield with the iPad version, and using two hands to control your character is better suited for the larger screen. While the Story mode offers plenty of challenge, there is no multiplayer support though you can share your achievements though OpenFeint and Game Center. If you're looking for some role-playing, fast and furious action-arcade battles, take a look at Braveheart.
Braveheart is compatible with any iPhone, iPod touch, or iPad running iOS 3.2 or later, and Braveheart HD is compatible with an iPad running iOS 3.2 or later.any iPhone or iPod touch running the iPhone 2.x software update.
[James Savage is the host of the RetroMacCast a weekly podcast devoted to older Macintosh computers.]