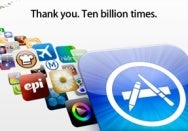 Apple launched its 10 billion download countdown for the App Store a week ago when it was at a little over 9.7 billion downloads. For the past week, the counter has been racing ahead at a speed of about 1.8 million downloads a day, eventually reaching its target on Saturday.
The winner of Apple's promotion is Gail Davis of Orpington, Kent, UK. Gail's fortuitous download of Paper Glider will earn a $10,000 iTunes Gift Card. That's enough money to download another billion apps (provided almost all of them are free).
"With more than 10 billion apps downloaded in just two and a half years—a staggering seven billion apps in the last year alone—the App Store has surpassed our wildest dreams," Apple vice president Philip Schiller said in Apple's announcement of the milestone. "The App Store has revolutionized how software is created, distributed, discovered and sold. While others try to copy the App Store, it continues to offer developers and customers the most innovative experience on the planet."
Note: When you purchase something after clicking links in our articles, we may earn a small commission. Read our affiliate link policy for more details.