Tumblr has exploded as a blogging platform in the past few years. You can find a huge range of sites dedicated to everything from specific celebrities to borscht paired with Neil Young songs. Tumblr users interact with the service through the dashboard, which allows posting, as well as viewing the posts from the Tumblr sites you follow.
Tumbleroo from Hanso Group allows you to browse the Tumblr dashboard in an app that feels more like the iPad's Mail app—or even an RSS reader—instead of a Web browser. If you hold the iPad in portrait orientation, the current post you're viewing fills the screen; tapping the Dashboard button in the upper left corner launches a pop-over window that allows you to scroll to the next post to be viewed. You can also tap the up and down arrows in the upper right corner to advance posts, though being able to scroll from post to post in the main window would be a nice addition.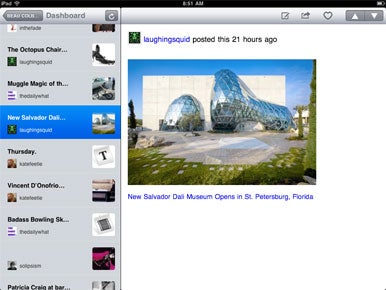 I found that holding the iPad in landscape mode is the easiest way to enjoy Tumbleroo. In landscape, the screen shifts to split-pane view (again, like Mail), and you can easily navigate each entry you want to read with your left thumb, while viewing the main content in the larger right pane. Being able to scroll through the entries with your thumb allows you to quickly skim through your Dashboard entries, which are shown with the post title, Tumblr site name, and thumbnail. Like an RSS reader, you can stop and read those that are of interest.
Tumbleroo contains additional features to make it more than a simple dashboard browser: you can create posts, switch between multiple Tumblr accounts that you run, and navigate the Web within the mini-browser that appears when you follow links within the viewing pane.
Tumblr is known for its visually refined interface, and that is a drawback when using Tumbleroo. The $2 app's UI, while very serviceable, isn't as visually pleasing as many nice iOS apps, and feels a bit out of line with the Tumblr experience. If that's a trade-off you're willing to make, Tumbleroo can be a very easy way to interact with Tumblr on your iPad.
[Macworld contributor Beau Colburn lives in Brooklyn, N.Y., and posts iPhone photos on his site Snap different.]