Editor's Note: The following article is reprinted from Macworld UK. Visit Macworld UK's blog page for the latest Mac news from across the Atlantic.
Toshiba is taking direct aim at Apple on its teaser website for the new Android-based tablet it plans to launch in spring.
A message on the Website that you'll only see if the device you are accessing the site with doesn't support Flash is probably the biggest tease of all on the site.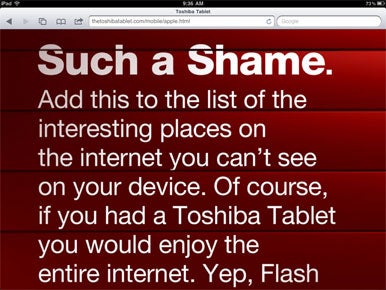 "Such a shame. Add this to the list of interesting places on the internet you can't see on your device. Of course, if you had a Toshiba Tablet, you would enjoy the entire internet. Yep, Flash sites too," the message reads.
Apple and Adobe's well-publicized row over Flash on iOS was one of the biggest tech stories of 2010, though given the strong sales of iOS devices reported by Apple in the last quarter it doesn't appear to have done Apple any harm, as far as consumers are concerned at least.
Toshiba is far from the first company to take a swipe at the iPad in promotional efforts for forthcoming tablets—Motorola described the iPad in its "Tablet Evolution" video released in December 2010. "It's like a giant iPhone, but… it's like a giant iPhone," Motorola teased.
However, whatever the perceived shortcomings of the iPad, it'll take one impressive a tablet to knock it off its perch. Apple sold 7.33 million iPads in the last quarter, exceeding the expectations of many; the iPad also dominates the media tablet sector with a near 90 percent share, according to figures from IDC.
[via All Things Digital ]