Editor's Note: The following review is adapted from Five Star Apps: The Best iPhone and iPad Apps for Work and Play by Glenn Fleishman. (2010, Pearson Education and Peachpit Press).
Think of Airfoil Speakers Touch from Rogue Amoeba as turning an iOS device into a portable speaker. The app works with Rogue Amoeba's Airfoil commercial software for Mac OS X and Windows. Airfoil captures and redirects audio that's playing on a computer to a variety of devices: other computers, AirPort Express, Apple TV, and mobile hardware running this iOS app.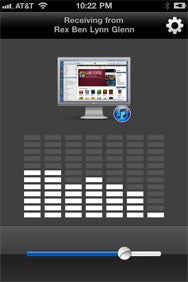 For Airfoil Speakers Touch to work, your iOS device must be on the same Wi-Fi network as the computer from which you want to stream audio.
Setup is simple. Install Airfoil on a computer on the network, launch the free Airfoil Speakers Touch app, and select the device as a destination from the computer software. Because the app supports background audio, it continues to play music even if you switch to another program. If you're on a shared network, you can still stream without fear of others listening in—you may not want them to know that you've got Depeche Mode on infinite shuffle—by setting a password in Settings within the app.
Airfoil Speakers Touch works as a perfect complement to remote control apps. With Apple's free Remote app, you can control iTunes on the same computer that's streaming audio from Airfoil to your iOS device. You can also use the app to create remote headphones. While watching a video across the room shunt the audio to your iOS device and plug in earphones.
[Glenn Fleishman is a frequent contributor to Macworld.]