Eltima Software has released SyncMate 3, the latest upgrade to its multifunctional Mac sync tool. SyncMate 3 features the ability to sync your Mac with an Android phone, and includes a revamped interface and improved device mounting features.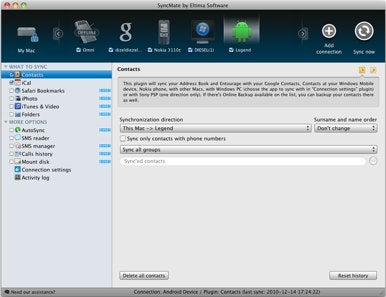 SyncMate lets you keep your Mac synced with a variety of online services and devices, such as a Windows PC, a Nokia Series 40 Phone, a Sony PlayStation Portable, and of course, other Macs. You can sync your devices via USB cable, Wi-Fi, or Bluetooth—depending on what the device supports—and you can sync all of your devices at once or sequentially.
SyncMate 3's major new feature is its ability to sync contacts, calendars, music, images, videos, folders and more between your Mac and an Android phone. As with other devices, you can sync your Mac and Android phone via USB cable, Wi-Fi, or Bluetooth, and you can choose between syncing data from Mac to Android, Android to Mac, or merging info from the two.
Eltima has also improved SyncMate's "Mount Device" function, which allows you to mount Windows Mobile devices and Android phones as additional Mac disks via Wi-Fi, Bluetooth, or USB. The interface has also been given a facelift to appear more "Mac-like." Eltima has posted a detailed list of SyncMate 3 improvements at the company's Website.
SyncMate comes in a free version that can sync your Address Book contacts and iCal events with your various devices, as well as with Microsoft Entourage contacts and calendars. It can also copy SMS messages to the Mac, where you can read and search them. A $40 Expert version is also available, which additionally lets you sync folders, images, music, and more between devices. Upgrade pricing is available upon request.