Tired of casual games? Think there's nothing challenging on the App Store? Think again. In Turborilla's Mad Skills Motocross for the iPhone, you control a dirt bike racer as he competes against a computer challenger in a series of racing competitions. Though the game presents you with a wide variety of tracks to compete on, the skills required to succeed are laser-like in their focus. That's the good and bad news.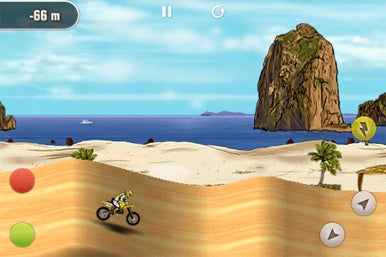 Mad Skills comes with 52 2D side-scrolling races for you to compete in. Your main objective in most races is simply to win. When you start levels, you see two motorcyclists lined up along a start line, getting ready to race. A typical level track has several sand dunes, mud piles, or large hills that your rider has to conquer. Often, after your rider jumps over an obstacle, he'll be in midair. If your rider is in midair, you can press the Down arrow to make him perform a back flip. If he fails to complete the flip, and his bike starts to fall backwards, you can tap the Up arrow to level his bike and make him land safely. You can press either the Up or Down arrows at anytime during a race to adjust your rider's physical position on his bike. Your rider's position affects his aerodynamics, which affects the speed at which his bike moves.
Though most Mad Skills levels are pure races, where your only goal in them is to make your rider win, some game missions are different. To complete one level, you have to make your rider perform multiple back flips within a certain time span. In another, you must make your rider complete a course in 15 seconds or less. In another, your rider has to perform a specialized jump repeatedly.
I found that Mad Skill's tracks differentiate enough from each other so no level feels the same. The game's track differentiation is its biggest asset. Unfortunately, it's just too hard to keep your rider on his bike while racing. When I played the game, I placed my rider in many different positions to stabilize him. However, no matter the position, or the race, I could never keep him on his bike.
My rider's clumsiness wouldn't have been problem, if he hadn't had to compete against a computer challenge. My challenger never fell. He never decelerated. He never had any trouble getting up track hills. When my rider was struggling to get up from his falls, my computer opponent always managed to get much further ahead of him. After falls, I often exerted a lot of effort trying to get my rider to catch up with his challenger, but to no avail. Obviously, I replayed game levels a lot.
It's not impossible to beat Mad Skills Motocross levels. You just have to replay them over and over again until you learn to how keep your rider stable in them. Most gamers won't have the patience to repeat levels as much as the game requires you to do—I know I didn't. Still, if you're looking for a challenge, and I mean a real challenge, Mad Skills Motocross may be exactly the masochistic fun you've been looking for.
[Sam Felsing is an editorial intern for Macworld.]