The arduous task of keeping your iTunes library in sync across multiple Macs (and PCs) has gotten a little easier, thanks to the release of SuperSync 4.0.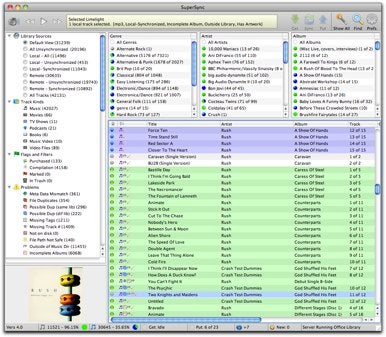 Probably the biggest feature in the new version of the software from the company of the same name is the ability to compare and import media from another user's iTunes library on the same computer (as long as you have at least read privileges for that user's folder). SuperSync 4 also gained a Web server for streaming your iTunes library to other computers through a browser, even Mobile Safari on iOS devices, over your local network or even across the Internet.
If you're importing tracks that are short on details, you now have one-click access to scouring the Web for more metadata, and your resources include iTunes Store, YouTube, Google, Amazon, Last.fm, LyricsFly, and others.
Next on the list of notable additions is a redesigned interface that should make SuperSync feel a little more Mac-like (though, judging from them, 'a little more' might be accurate), as well as a completely rewritten core engine with an eye on boosting performance. A new duplicate removal tool should make it easier to clean up after the occasional overaggressive sync, too.
SuperSync 4.0 is a free upgrade for all current owners, and licenses start at $29 for a two-pack (either Mac or PC), then move up to $39 for a five-pack, and $49 for a 10-pack. As part of a launch sales, however, those prices are $23, $34, and $40, respectively, for a limited time. There's also a free demo available if you want to give it a try.