Creating an app that's meant to be a mobile substitute for Microsoft Office is an ambitious undertaking, even when you're not aiming to replicate all, or even most, of the heavyweight's functionality. That Quickoffice has managed to do so with Quickoffice Connect Mobile Suite for iPad is impressive in and of itself.
Quickoffice Connect allows users to create new documents in Word, Excel, and PowerPoint formats, and to import and edit documents in the same format. You can also view PDF files. These capabilities alone aren't unique: Documents To Go Premium is one noteworthy all-in-one competitor, while other apps, like Apple's Pages, Numbers, and Keynote support editing and saving documents in Microsoft's established formats.
What makes Quickoffice Connect stand atop the small iPad office suite pack are its relative snappiness and a solid, straightforward document management interface. Downloading and uploading documents to services such as Google Docs and Dropbox seemed, on my standard home Wi-Fi network, much faster than Documents to Go Premium. Similarly, the app felt much more responsive than its main competitor in creating, editing, and formatting documents.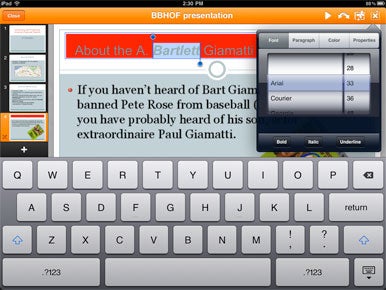 Quickoffice Connect enables you to save and retrieve documents from the Google Docs, Dropbox, Box.net, MobileMe, Huddle, and SugarSync cloud services. To access your accounts, you enter your login information in Quickoffice Connect just once; from then on, this information is saved and access to your accounts is automatic. The document management interface design consists of a simple and effective three column layout, displaying your local and cloud storage spaces in the left column, your folders and documents in the center column, and contents of selected folders in the right column. From here you can create new documents and folders, e-mail or delete files, and access settings. If you're concerned about security, you can create a four-digit passcode to protect access to the app.
Where Quickoffice Connect falls short is in its lack of common capabilities. This is evident, for example, in the word processing module, where users are limited to a choice of seven fonts and only a handful of basic paragraph formatting options. Among the most common word-processing features missing are document formatting capabilities, spell checking, word count, and headers and footers—meaning, in essence, that this is not an app for creating a polished and complete manuscript.
The spreadsheet component is equally basic, allowing for limited formatting options and the ability to insert and delete columns, rows and sheets. Number format choices should prove enough for most users, though, and what impresses—much like the word processing component—is the quick and accurate response to touch motions and keyboard edits. There's almost no delay, and what you touch is what you get. Other complex apps sometimes falter in these capabilities, which makes this noteworthy.
QuickOffice Connect added the ability to create and edit PowerPoint documents in its 2.0.0 update. You can edit text and resize, add, and delete elements in already-existing presentations, and create some basic presentations from scratch. You do this from slide view—there is no outline view—and this component has limitations similar to those elsewhere in the app. No presentation templates are included, but you can enter and format text (with the same font and paragraph limitations as the word processing component) and insert and manipulate basic graphics in addition to images from your iPad images library. This is no substitute for PowerPoint or Apple's iPad-native version of Keynote, but it's an impressive start for a new feature.
If you require an office suite as part of your iPad app arsenal, QuickOffice Connect would make a solid choice. Its good "production values" mean that there's almost no learning curve if you already use Microsoft Office, while its limitations, though sometimes frustrating, pale in comparison to the robust and responsive functionality it provides.
[Jeff Merron is a freelance writer and editor living in North Carolina.]