Accessories that add personality and functionality to Apple's iPad are swarming the market. M-Edge offers customizable cases for the iPad and Zaggmate has a hardcover case that includes a keyboard. A heart monitor, hard drive and digital crayon designed for the iPad were also shown at the Consumer Electronics Show in Las Vegas earlier this month.
M-Edge's customizable tablet accessories
M-Edge wants to bring personality to tablets and e-readers with its MyEdge jackets. Users can create artwork for jackets using online design tools available on M-Edge's website, where images and photos can be uploaded and customized.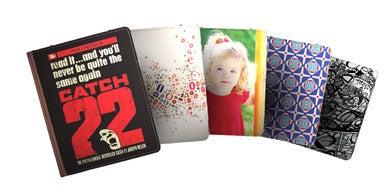 Once the design is complete, M-Edge prints the image on the jacket. M-Edge adds a layer of Scotchguard film to protect the artwork. MyEdge jackets are "coming soon" and will be available for Apple's iPad (US$50) and Barnes & Noble's Nook e-reader ($40).
Zaggmate protective cover and keyboard
Zagg is offering Zaggmate plus keyboard, a multifunctional accessory that protects an iPad and functions as a keyboard. The hard cover is made from aluminum. In the middle of the case is a keyboard, which connects to the iPad using Bluetooth. On the side of the case is an iPad holder. The keyboard runs on a battery, and Zaggmate says it can operate for several weeks on one charge, going into sleep mode when idle. It could be a handy accessory for travelers and users who regularly create documents using Apple's iWork suite. Priced at $99, Zaggmate is available on Zagg's website.
Blood pressure monitor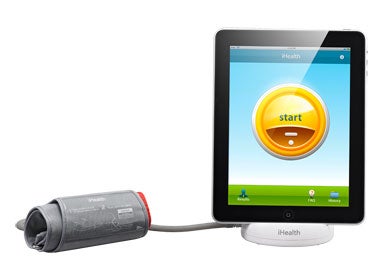 iHealth Labs earlier this month released the iHealth blood pressure monitor that connects to the iPad, iPhone and iPod touch. The package includes a blood-pressure arm cuff for measurement, a hardware dock that connects to the iPad, and an application that collects blood pressure information. The application can collect data over time and allows users to view blood pressure information trends on custom graphs or charts. This device costs $99.95 on iHealth's website.
iPad hard drive
Sanho Digital has started shipping the HyperDrive hard drive, which it calls the "world's first and only USB compatible hard drive." It offers up to 750GB of extended storage for the iPad, which includes internal storage of up to 64GB. The drive connects to the iPad using Apple's Camera Connection Kit ($29). The device includes a 3.2-inch LCD screen to view photos and select files. It also has a Secure Digital memory card slot. The hard drive is handy for those who want to store documents, high-definition movies and photos, all of which may not fit in iPad's limited storage. Prices for the HyperDrive range from $299 for 120GB to $599 for a 750GB drive. The hard drives are available on Hypershop's website.
Bringing crayons to the iPad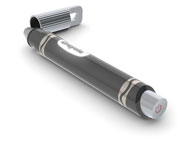 The iMarker stylus is a digital crayon from Griffin Technology and Crayola that resembles good old Crayola crayons. With the iMarker in hand, kids can draw on the iPad in coloring books provided through the ColorStudio HD application, which will come with the iMarker. Music and special effects can also be added to supplement the artwork, which can then be directly posted on sites like Facebook. The accessory was announced at CES and will be available next quarter through Griffin's website, though the company hasn't announced a specific date.