At a Glance
Expert's Rating
Pros
Thin, sleek form factor
Included lifetime advertising-supported traffic
Bluetooth phone interface
Our Verdict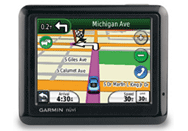 Over the past several years, larger screens have been the trend for dashboard GPS devices. Devices with a 4.3-inch screen have almost completely replaced devices with 3.5-inch screens. Still, some people might prefer a smaller screen device. And, often, but not always, the smaller screens could mean a cheaper price. Such is the case with the Garmin Nuvi 1260T.
If you're familiar with Garmin's product numbering scheme, you'll know that the "T" in the product name means included lifetime traffic, and the "6" means that it has a Bluetooth phone interface. That pretty much describes the major features of the 1260T. It's a GPS unit with a 3.5-inch screen, maps for North America, and Garmin's standard "where to" and "view map" main menu. With a list price of $190, however, it's only $10 less expensive than the Nuvi 1350T which features a standard 4.3-inch screen. So, what are the major differences?
Other than screen size, there are just a few. First, the 1260T has a Bluetooth interface that's not included on the 1350T. For some, the lack of a Bluetooth phone interface could be a deal-breaker. The other major difference is that the 1260T lacks Garmin's Lane Assist, a feature that guides you to the correct lane for highway maneuvers. For me, that's a deal-breaker. Lane assist, particularly in areas with complex highway interchanges, is almost as important a safety feature as text-to-speech. The other minor difference is that the 1260T lacks the option of a QWERTY keyboard—only an ABC keyboard is available. That's mostly due to the smaller screen size.
Like the 1350T, the 1260T sports Garmin's newer, slimmer case design. It's almost a full quarter-inch thinner than the corresponding 200 series. It also shares the 1350T's other unique Garmin features such as ecoRoute that tracks fuel usage and provides a fuel-efficient routing option as well as travel tools that include a world clock, a currency converter, a JPEG photo viewer, a calculator, and a measurement converter.
As with other Bluetooth-enabled Garmin devices I've tested, my Droid X paired easily with the 1260T. Like other budget-priced Nuvis, however, the 1260T does not read contacts from your phone book.
Macworld's buying advice
If you're looking specifically for a 3.5-inch navigation device with a Bluetooth phone interface, the Nuvi 1260T is a good choice. If, however, Bluetooth isn't your main focus, you could buy a RoadMate 3045, a 4.7-inch device that has the AAA tourbook built in, lane assist, lifetime traffic, and multi-segment routing at the same list price. Similarly, in the TomTom product line, you could buy an 4.3-inch XL 350-T for only $10 more.