At a Glance
Expert's Rating
Pros
Thin, sleek form factor
Includes Lane Assist
Cons
No multisegment routing
Lacks Bluetooth Interface
Our Verdict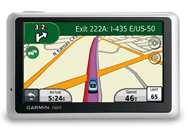 One of the challenges of buying a GPS navigation device is to figure out just which set of features you want. The other lies in deciphering the differences among models in a product line–in this case, the difference between the Nuvi 1350T and the Nuvi 1370T. One need look no further than the list prices of these two models to know there's a difference: The similarly featured 1370T is priced at $250.
Maps account for the major difference between these two. Whereas the 1370T comes preloaded with maps for the U.S., Canada, and Europe, the 1350T lacks the European maps. The 1350T is upgradeable with maps for Europe for $100, but if you are planning a trip to Europe, the 1370T is a much better deal than upgrading the cheaper unit. On two previous trips to Europe, I traveled with a Garmin GPS that had European maps, even though I didn't rent a car. It was great for keeping cabdrivers honest and for finding nearby restaurants.
The second feature you give up on the 1350T is the Bluetooth phone interface. But again, that might not be a big deal for you, as many newer cars have a Bluetooth connection that interfaces to the vehicle's audio system.
The "T" in both model names indicates that both devices have built-in traffic receivers and lifetime, subscription-free advertising-supported traffic alerts. You do get occasional pop-up ads, but they don't stay on the screen very long and are fairly easy to ignore. The value of avoiding traffic jams and construction delays for many people would be a fair trade-off for the ads.
The newer, slimmer case on the 1300 series of Nuvis is a feature that makes them easily distinguishable from the earlier 200 series, including the Nuvi 265WT; this series is almost a full quarter-inch thinner. In addition, the 1300 series features an enhanced pedestrian mode that can be supplemented with optional cityExplorer maps for specific cities. The 1350T also includes Lane Assist, a feature that guides you to the correct lane for an upcoming turn or highway exit.
Also in the 1350T is ecoRoute, a feature that tracks fuel usage and can calculate a fuel-efficient route in addition to the traditional "shortest distance" and "fastest route" methods. You get a handy set of travel tools as well, including a world travel clock with time zones, a currency converter, a JPEG photo viewer, a calculator, and a measurement converter. Such tools are not common inclusions among this model's competitors.
Macworld's buying advice
As with the older Nuvi 200 series, the slightly upscale 1300 series offers the budget-conscious buyer a lot of value, but in a sleeker form. While I still like the Nuvi 265WT, the 1350T has the edge overall, if you don't need the Bluetooth interface. And if you want lifetime map updates, look for the otherwise identical, but pricier 1350LMT.