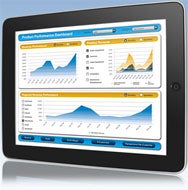 MicroStrategy will announce a series of new BI (business intelligence) products for Apple mobile devices, transactional data systems and on-demand deployments at its annual user conference on Tuesday in Las Vegas.
The company is rolling out additional ways to visualize data on iPads and iPhones, including "heat map" and calendar-style presentations. Another new feature will enable in-memory data stores on mobile devices to receive new information without having to recreate the whole repository. MicroStrategy's in-memory capabilities will now also be able to suck in data from multidimensional databases such as Oracle's Essbase.
A product called MicroStrategy Transaction Services will allow mobile applications to talk to transactional systems back at the home office. For example, a store worker could use an iPhone "to scan the bar code of an item, identify the product as a top-seller, see the sales forecast for the item, and immediately initiate a re-order," the company said in a statement.
MicroStrategy is also expected to discuss tools business users can use to explore large data sets in visual fashion, as well as an on-demand version of its BI platform, which is now in beta.
Of all the announcements, MicroStrategy's mobile plans are the most significant, said Forrester Research analyst Boris Evelson.
"It's all about making BI much more pervasive. There's a whole segment of enterprise users who didn't have access to BI because they're constantly on the road," he said.
However, no company should be considering mobile BI deployments if they don't have the basics down, which include data quality and a centralized data warehouse, Evelson said.
One thing is for certain: It is not difficult to build a solid business case for mobile BI, according to Evelson.
"Imagine if you're a salesperson meeting with a client, and a question requires you to go back to the office and look up some reports," he said. If the salesperson does that, they risk losing the deal, whether to a competing offer or simply because the customer changes their mind, Evelson said. But a mobile BI application could potentially enable the salesperson to get the information right then and there.
Meanwhile, MicroStrategy's announcement should also serve to heighten its profile as one of the industry's last remaining large, independent BI vendors.
That may not be the case forever. New Hewlett-Packard CEO Leo Apotheker is on record saying he intends to strengthen the company's software strategy. MicroStrategy could arguably be on his shopping list, given HP's strength in BI services as well as the fact that Apotheker's former employer, SAP, bought Business Objects. That deal has been generally viewed as a success for SAP, where Apotheker served in various roles, most recently as CEO.
There is "no question MicroStrategy will be acquired. It's not a question of if but of when," Evelson said. Other potential buyers besides HP include Teradata or EMC, he said.