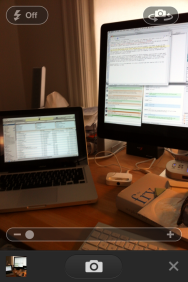 Snapping photos on your iPhone or iPod touch is great, but sometimes they need a little bit of touching up. For that, Adobe has released the latest version of its Photoshop Express for iOS devices, bringing improved iOS 4 support and a better workflow for capturing and editing images.
It's the last one that most iPhone and iPod touch users will probably find handy, as you can now take pictures even more quickly from inside the app, then easily review them and make adjustments if necessary. Of course, you can still import pictures from your device's albums or camera roll and tweak those as well, using Photoshop Express's tools for cropping, rotating, adjusting brightness and contrast, adding effects, and more.
In addition, the app's interface has been updated for Retina displays, ensuring that it looks good on Apple's latest iOS devices. Also included in the update is improved multitasking support, so you can jump away from Photoshop Express and then back without losing your place. Plus, if you start uploading a picture using the app's built-in sharing features, the transfer can continue in the background, so you don't have to sit and stare at a progress bar.
Photoshop Express 1.5 is a free download; it's also a universal app that requires iOS 4.2 on any iPhone, iPod touch, or iPad.