I listen to Internet radio quite a bit—I love that even the most obscure music and programs, from radio stations all over the world, are available at my fingertips for instant listening. (I also get a kick out of listening to my favorite stations from places I used to live.) Unfortunately, iTunes' Internet-radio feature feels like an afterthought. Radium makes it easier and, frankly, more fun to listen to Internet radio and several online music services.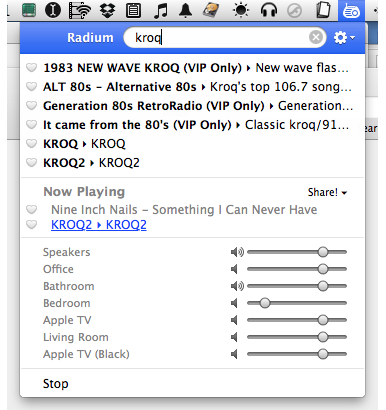 Launch Radium, and its retro-radio icon appears in your menu bar. Rather than having to click tiny genre triangles to manually browse stations, as you do in iTunes, you just click the Radium icon and type a few characters of what you're looking for—a station's call letters, a genre of music, a keyword. Radium searches its database of Internet-radio stations and displays a list of matches along with each station's description. (Unfortunately, you can't view a station's entire description—only what fits in width of the Radium menu.) Choose one, and it starts playing.
Everything you need can be found in Radium's menu. You can view the current track, artist, and station; if you like the current track, you can share that info via Twitter or Facebook. If you find a station you like, just click its heart icon to save the station to Radium's menu as a favorite. (If you've already got favorites in iTunes, you can drag each from iTunes to Radium's icon to add it; you can also add a station using its URL.)
One of my favorite features, shown in the screenshot above, is Radium's support for AirPlay (formerly AirTunes), letting you send your Internet-radio stream to any AirPlay/AirTunes devices on your local network. Available destinations are displayed right in the Radium menu—just click the speaker icon next to a destination to send Radium's audio to it. You can even control the output volume for each destination independently. The AirPlay feature worked well in my testing, although when listening to the local computer and remote speakers simultaneously, there was a slight delay between local and remote audio.
Another great feature, shown below, is the History window, which displays recent tracks you've listened to. For each track, Radium displays the artist, station, and album cover; if a track is available on the iTunes Store, you also get an iTunes link to purchase it and a Play button to listen to a preview. (If a track isn't available in iTunes, a Search button lets you search for information about the track using Google.) You can also label tracks as favorites, which keeps them in the window permanently, and you can filter the History window to display only your favorites.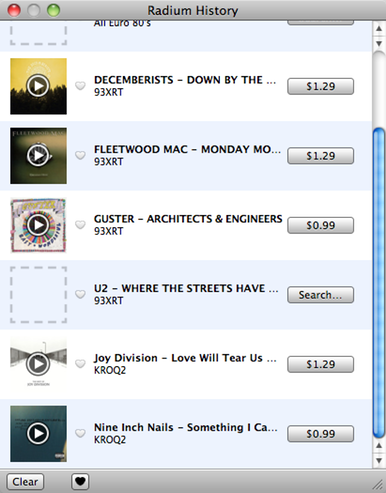 Radium also includes a 10-band equalizer for tweaking audio output. The equalizer comes with 23 presets, and you can add your own.
Radium's settings screen offers a number of additional options. For example, you can choose to always use a station's high-quality stream, if available, and Radium can automatically exclude from search results stations that aren't available in your area. You can opt to display Growl alerts each time a track changes, and you can configure handy keyboard shortcuts for playback control, copying and displaying track info, and cycling through favorite channels.
As you can see in the first screenshot, above, some stations are labeled VIP Only. These are subscription-only stations—they don't even appear in iTunes—that are accessible to members of the Live365 Internet-radio service. Radium also supports subscriptions for a number of other services, including Sirius Internet Radio, XM Radio Online, and Last.fm, making it a versatile way to listen to all your online-radio programming.
Want to stay up to date with the latest Gems? Sign up for the Mac Gems newsletter for a weekly e-mail summary of Gems reviews sent directly to your Inbox. You can also follow Mac Gems on Twitter.