Editor's Note: The following review is adapted from Five Star Apps: The Best iPhone and iPad Apps for Work and Play by Glenn Fleishman. (2010, Pearson Education and Peachpit Press).
It's far more difficult to figure out what to make for dinner or a potluck or a brunch than it is to make the food itself. Allrecipes.com offers its Allrecipes.com Dinner Spinner Pro as an aid. Tap the dial of this $3 iPhone and iPod touch app, the wheels spin, and suggestions arise.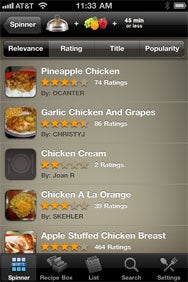 The combination isn't always ideal. I don't typically need to know how to make a beverage using chicken in under 20 minutes. That's why you can also manually choose by category (main dish, salads, and so forth), major ingredient, and time needed to prepare the meal.
The app taps into Allrecipes.com's vast archive of user-submitted and professional recipes, along with rankings and reviews. Rely on other users' feedback to figure out whether a recipe is worth making. We use Allrecipes.com all the time in my household; the wisdom of crowds works with cooking.
Recipes can be adjusted by the number of servings desired, and the appropriate ingredients dropped into a shopping list. You can view the nutritional information panel for any recipe, which adjusts based on servings.
Rotate your iOS device while viewing a recipe, and a special cooking view lets you more easily see the current step in a series of directions. Swipe down to access the full list of ingredients.
A free or paid Allrecipes.com account can be linked in to sync items in shopping lists and recipe boxes. While no account is required, regular Allrecipes.com users will find it more useful than those who have never logged into the site before. This app goes well with iPhone or iPod touch stands—and perhaps a splashguard.
[Glenn Fleishman is a frequent contributor to Macworld.]