If you use the TomTom navigation app to get around, you may have found yourself frustrated by the app's sometimes cumbersome address-entering interface. If so, Bacon Bear's TomTom Now could help save you time and effort. The simple app works as an alternative to the TomTom app's destination address interface, improving the GPS app's ease of use by letting you enter or paste a destination address in any format, including both multi-line and single-line.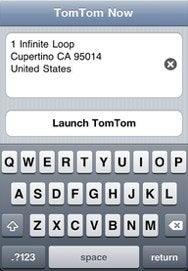 In the TomTom navigation app, you must separately enter your destination address one component at a time—city, street, house number. But TomTom Now lets you enter an address in a variety of formats, like you would for a Google Maps search. It also identifies points of interest, like "The Statue of Liberty" or "Grand Canyon," as well as airport codes.
When you launch TomTom Now, you're presented with a simple interface in which you enter your destination address. Once you've entered the address, the app then launches TomTom's GPS app with your destination address already filled in for you.
Along with providing a faster way to enter addresses, TomTom Now also lets you paste addresses you've copied from other apps, like Mobile Safari, Mail, or from text messages. The app also includes configurable Favorites and Recents lists so you can easily access your frequent destinations. While maybe not for everyone, frequent TomTom users might want to give this $2 app a shot.
TomTom Now runs on iOS 4 or later and is optimized to run on the iPad as well as the iPhone and iPod touch. It requires the TomTom navigation app to be installed on your device.
Bacon Bear has a similar product for Navigon's mobile GPS apps with a similar name— Navigon Now. That app debuted on the App Store earlier this month.