Editor's Note: The following review is adapted from Five Star Apps: The Best iPhone and iPad Apps for Work and Play by Glenn Fleishman. (2010, Pearson Education and Peachpit Press).
Flickr Studio organizes Flickr photostreams—your own, your contacts', and the world's—into browsable arrangements by time and space. Flickr incorporates quite a bit of information about each photo that's uploaded to the photo-sharing service, including geographic coordinates if the picture was taken with a camera or mobile phone that embeds that information. You can also add location details from the Flickr Website for photos that lack latitude and longitude.
Flickr Studio navigates among all this embedded and added information. The $5 iPad app's "You" page shows a grid of your photos after you log in with an account, with callouts showing the dates for each batch. Swipe on the page to load the next batch by date, or tap a picture to fill the screen. Those who have paid Yahoo for an annual Flickr Pro subscription can view photos at the full stored resolution.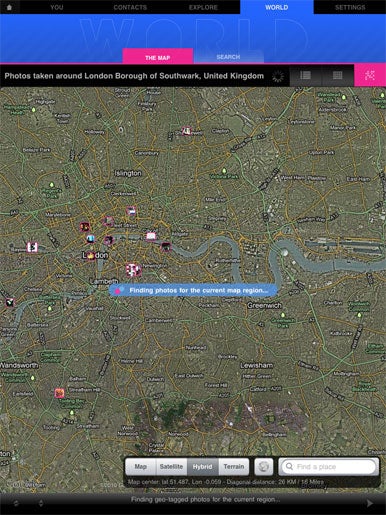 Developed by Keeple, Flickr Studio lets you explore quite readily, too, with tabs for your contacts' photos, for Flickr's interesting photos of the day, and for pictures available from institutions that offer images for viewing and describing.
A map mode lets you both explore photos around you or anywhere in the world. If you're viewing pictures and switch into the map mode—available in several places in the app—tiny thumbnails cluster around where those photos were taken. In your own photosets, when not at the closest zoom level, Flickr Studio paints lines between photos' locations in the chronological order in which they're taken, showing a rough path among pictures.
[Glenn Fleishman is a frequent contributor to Macworld.]