This past Saturday, Oli Christie, founder and managing director of Neon Play, was too busy putting his kid to bed to answer the phone. Not until he checked his voicemail later that evening did the UK-based entrepreneur learn that his one of his company's iOS games, Paper Glider, had been part of App Store history.
The free game was the 10 billionth download at the App Store, the online outlet for mobile apps that Apple launched in 2008. The App Store hit the milestone over the weekend when Gail Davis of Orpington, Kent, UK, downloaded the Neon Play game.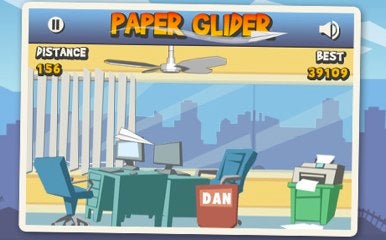 Since Apple broke the news about its 10 billionth download, things have been moving quickly for Christie and his company. I had a chance to chat with him this week about the origins of Neon Play, the recent PR hullabaloo over Paper Glider, and what's in store for the company's future.
Before founding Neon Play, Christie had worked for 11 years as creative director for various online marketing projects—many of which involved developing viral Flash and Shockwave games—and had racked up an impressive assortment of awards for his work. When the iPhone was first released, Christie took immediate interest in the platform's potential for games.
"It seemed like a great way to follow my passion," he said.
And follow his passion he did, quitting his job, posting an ad for a programmer, and founding Neon Play in Cirencester, UK just last year. He hasn't looked back since.
Paper Glider, a free, remarkably simple game in which you launch a paper airplane by swiping its trajectory across the display and tapping to keep it aloft, is Neon Play's ninth iOS game. Paper Glider's surprisingly addictive gameplay had earned the app a No. 1 ranking at the UK App Store (it got up to No. 2 in the US) and more than a million downloads before it achieved its historic status—and since then, it's been flying off the digital shelves.
"Its been so exciting because (Neon Play) just got started in June. The game was already doing well, but this has really put us on the map," Christie said.
Of the resulting PR storm that followed Apple's announcement, Christie sees it as a huge stroke of luck—and a very rewarding one at that.
"We're doing all we can to make the most of this one in 10 billion opportunity," he added.
So what's next for Neon Play, now that it's secured itself a spot in the annals of App Store history? According to Christie, the company currently has three new apps in production and is looking to expand its workforce to help keep up its feverish development pace. The Neon Play Website provides some insight on the company's work culture, which includes free beer for employees on Fridays, and a vacation day on your birthday.