Editor's Note: This story is excerpted from Computerworld. For more Mac coverage, visit Computerworld's Macintosh Knowledge Center.
A new free app from Brainshark for the iPad and iPhone allows users to easily navigate Brainshark business sales and training presentations on those devices.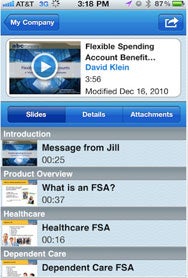 Brainshark presentations include music, video clips and attachments and can be used for sales presentations, training and other purposes in an on-demand fashion from any computer and wireless device through a Web browser, company officials said.
The presentations have already been available on the iPad and iPhone and other smartphones, as well as laptops and desktops, through a Web browser. The new Brainshark App gives each user the ability to navigate through a presentation with a table of contents and to download attachments associated with the presentation.
The app also allows a click-to-share capability through e-mail and access to a library of e-learning content on business topics. In addition, with the app, enterprise customers can log into a Brainshark account to access their own content or their company's content.
Brainshark CEO and Founder Joe Gustafson said that about 1,400 companies already use Brainshark, which is sold as a subscription service and can cost as little as $10. Brainshark offers single-user pricing, professional pricing and enterprise pricing—and one large customer has paid $1 million a year for the service. One advantage of the service is that it makes it easy for users to create and distribute presentations and offers reports on who accessed the material.
Brainshark, based in Waltham, Mass., launched in 1999 and has 170 employees. It expects to add more workers in 2011, Gustafson said. "The last nine months have been truly remarkable," he said in an interview. "It was the iPad that really accelerated business use of Brainshark content."
One existing Brainshark customer, Corporate Visions, expects the new app to make a difference for users. Corporate Visions provides sales and marketing consulting and training. "We work with companies that have deployed large numbers of iPhones and iPads and as such, we are enthusiastic about this app and its ability to provide an excellent user experience," said Tim Riesterer, chief marketing officer for strategic consulting at Corporate Visions.
The new app will allow Corporate Visions customers to easily navigate the exact content they want and to download supporting information "to derive maximum benefits from our program," Riesterer said in a statement.
Brainshark doesn't compete with Webex and other real-time Web conference tools, which allow participants to ask questions over the phone, Brainshark officials noted. However, having asynchronous access to presentations is valuable to mobile workers and executives who can't be tied to a schedule while traveling, Gustafson said.
The Web conferencing marketing is estimated to be $2.6 billion annually, he said. "Asynchronous [presentations] are not that big yet, but we believe there's the potential to be as big as that."
Note: When you purchase something after clicking links in our articles, we may earn a small commission. Read our affiliate link policy for more details.