Take one glance at your AT&T bill and its monthly or per-message charges for SMS messages, and it's easy to understand the booming market for third-party messaging apps that promise low- or no-cost texting. What's more difficult to understand—at least for the companies that make those apps—is how to make their mobile messaging offerings stand out from the crowd.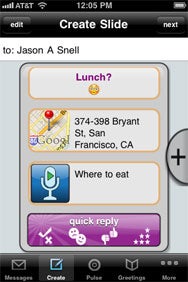 HighNote thinks it's come up with a winning formula for its newly unveiled messaging app. The app, also dubbed HighNote, launched on the App Store Tuesday and lets users tailor their messages with multimedia—maps, music, video, and more—for a richer experience than with just text alone. The idea, HighNote CEO Marc Barach told Macworld, is to offer an app that fills the gap between the simplicity of real-time communication and the extensive social capabilities that smartphones like the iPhone offer.
HighNote users create slides—essentially messages that contain different elements. In addition to text, you can add two pieces of media per slide. A HighNote message can contain up to nine slides.
Media options include photos and video clips (either ones stored on your phone or taken via the app), voice memos, a map that uses the phone's location features to show precisely where you are, and links to music and video content from the iTunes Store or your own music library. Music links generate a 30-second clip and give the recipient the ability to buy the song from iTunes from within the app.
Barach says that HighNote also distinguishes itself from other messaging apps with quick-reply buttons. These let HighNote users fire off quick responses with a single tap and include options like a calendar for setting meeting dates, a Call Me button that produces a tappable phone number, and a Where Are You feature that lets the recipient pinpoint their own location. HighNote users can customize their quick reply buttons as well.
Using HighNote, you could send a message to a friend about meeting for lunch that includes a map of where the restaurant is located and a photo of the outside of the eatery. That friend could hit a quick reply button to let you know when they'd like to meet you.
The app includes a number of templates for sending out messages like birthday wishes, meeting invitations, and other occasion-specific greetings. What's more, HighNote users can customize the text in their messages, changing the color, alignment, style, and size. A purple-hued text message studded with emoticons and featuring links to iTunes songs may not appeal to more buttoned-down texters, but HighNote's Barach thinks it will strike a chord with the 16- to 26-year-old users that his company is targeting.
HighNote is a free app, and it doesn't cost users a dime to send messages packed with as much text as they want. There are also no banner advertisements strewn across HighNote's screen. "We don't want to get in the way of the messaging," Barach says. In addition to messaging, HighNote offers quizzes and polls, and the company believes it can attract sponsors to those features.
Besides its Tuesday arrival on the iOS platform, HighPoint also debuted for Android-based smartphones, increasing the potential scope of HighNote's user base. Expanding HighNote to additional platforms is in the works—BlackBerry and Symbian versions of the app are in the works and a Windows 7 release will follow.
For iOS devices, HighNote requires iOS 3.1 or later.