For its latest version, iMedia Browser sports a new architecture, a new browsing feature, and a new retail home on the Mac App Store.
Developed by Karelia Software, iMedia Browser recreates the media browser you'd find in iTunes and extends that functionality across all applications. Using iMedia Browser gives you quick access to your library of photos, sounds, movies, and bookmarks. The latest version—iMedia Browser 2—was unveiled on Wednesday.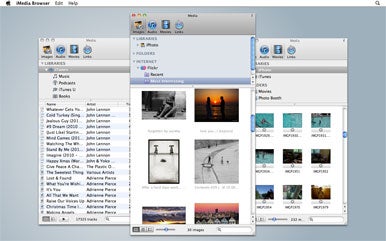 Karelia says it rewrote the latest version of iMedia Browser from the ground up, teaming up with Boinx Software for the open-source framework at the program's core. The application's new architecture means speed improvements for iMedia Browser. Users should find the application much more responsive when browsing through their media collections and bookmarks.
iMedia Browser 2 also adds a new searchable Flickr browser to its capabilities. That augments the application's ability to browse images in iPhoto, Aperture, Lightroom, and the Pictures folder. iMedia Browser continues to let you browse audio (in your iTunes, GarageBand, and Music folders) movies (in iTunes, iPhoto, and the Movies folder), and bookmarks (via Safari and Firefox).
Karelia is offering iMedia Browser 2 exclusively through the Mac App Store, Apple's online outlet for Mac software. A free download, iMedia Browser requires OS X 10.6.6 or later.