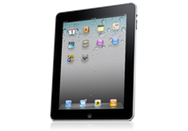 Apple was the world's third-largest PC vendor during the fourth quarter last year if iPad shipments are included, research firm Canalys said in a study released Wednesday.
With iPads included, Apple's worldwide PC shipments grew 241 percent, which put the company in third place behind Hewlett-Packard and Acer, Canalys said. Apple held a 10.8 percent PC market share with 11.5 million PC units shipped and was neck-and-neck with Dell, which also held a 10.8 percent market share with 11.4 million units shipped.
Research firms IDC and Gartner have not included tablets in their worldwide PC shipment numbers, and their quarterly studies have not listed Apple as one of the world's top five PC vendors. But Canalys said that tablets, just like netbooks, are becoming popular enough that they need to be included in PC shipment numbers.
Worldwide PC shipments during the fourth quarter grew by 19.2 percent to 105.8 million units, Canalys said. In addition to strong iPad sales, Apple also recorded strong Mac sales, which helped push the company into the third spot.
When reporting financial results last week, Apple said it sold 7.33 million iPads during the first fiscal quarter for 2011, ending on Dec. 25, compared to 4.19 million tablets for the fourth fiscal quarter of 2010. The company also sold 4.13 million Macs during the first fiscal quarter, a 23 percent year-over-year increase.
Apple is benefiting from tablets just like Acer, Asus and Samsung benefited from netbooks a few years ago, said Daryl Chiam, senior analyst at Canalys.
Acer overtook Dell as the world's second-largest PC vendor during the third quarter of 2009, partly due to growing momentum in netbook shipments, according to IDC. At the time, Acer was the world's largest netbook vendor, while netbooks were a small portion of Dell's PC shipments.
Apple dominates the tablet market with the iPad, but there is increasing competition coming from Samsung's Galaxy Tab. Apple could face more competition in the next few months from Hewlett-Packard, Research In Motion, Dell, Acer, Asus and Motorola, which are all due to release tablets soon. More than 100 tablets were announced at the recent Consumer Electronics Show, many with Google's Android 3.0 operating system, which is code-named Honeycomb.
The top two PC makers, HP and Acer, recorded single-digit PC growth rates during the fourth quarter last year, according to Canalys. HP shipped 18.7 million PCs worldwide, growing by only 2.9 percent year over year and holding a 17.7 percent market share. Acer fared better, with shipments growing by 8.8 percent to 13.6 million units, a 12.8 percent market share.