Namco's Lost in Time: The Clockwork Tower is a hidden-object puzzle game with an intriguing—if strange—storyline.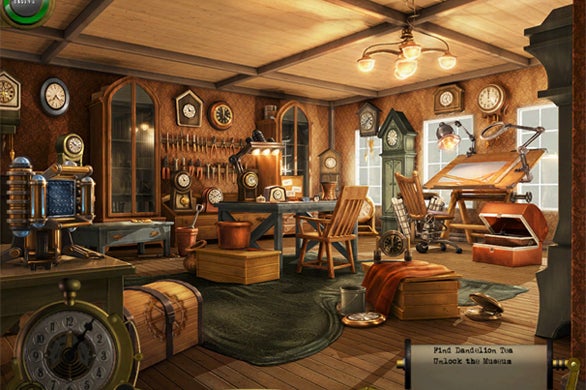 The story starts in a little town whose main attraction is a large, mysterious clock tower. Mischievous teen Eliza goes poking around the tower one day, and ends up in the top room where a little old man is busily working away—the clock maker. The clock maker, startled by Eliza's presence, drops his pocket watch into the large, moving gears of the clock—causing the gears to malfunction and explode.
When the game starts, Eliza is thrown to the bottom of the tower, where she discovers that time has stopped at various points for various people, thanks to the disruption of the town's clock. With the help of a young man who seems to live in the pocket watch, she must reassemble the magic watch and unfreeze time to save her friends and family.
The puzzles start out easy enough—along with the expected hidden-object puzzles, there are also mazes, games, and clock gears to find and assemble. The puzzles quickly become challenging, although there's a well set-up hint system (if you need clues, you can tap the hint button every fifteen seconds or so). Gameplay is simple—all you need to do is tap your way through the game and have a keen eye for hidden objects.
While gameplay is simple, the lack of instructions can be frustrating. There also seems to be a "sweet spot" for many of the hidden objects—I found myself tapping the same object (a bottle of wine) continuously for almost five minutes, restarting the game, and tapping the same object for another minute or two before my tap registered and the object was crossed off as "found."
Clockwork Tower features gorgeous 3D scenery, which looks especially good on the iPad's large screen. Each area is detailed—but not so detailed that you won't be able to find the coals and diamonds (which can be exchanged for goods at the general store) lying around—and reminiscent of illustrations in a childhood book.
Movement through the scenes is not as fluid as movement in The Stroke of Midnight—though both are tap and explore games with mostly static scenes, Stroke is much easier to navigate. In contrast, it wasn't until about halfway through Lost in Time: Clockwork Tower that I realized the reason I couldn't move from scene to scene some of the time was because I had an object in my inventory selected (again, the lack of instructions is frustrating).
The weird storyline and awkward controls mar what is otherwise a beautiful hidden-object game. I'd strongly recommend checking out The Stroke of Midnight before venturing to Clockwork Tower.
[Sarah Jacobsson is a frequent contributor to Macworld.]