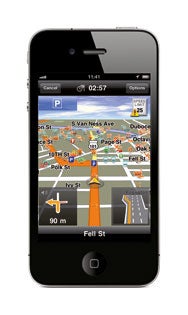 Navigon is upgrading the traffic features of its navigation app for the iPhone while introducing an iPhone-friendly car kit that lets users mount their smartphones to their cars' windshield. The navigation software maker announced these moves Thursday at Macworld Expo in San Francisco, where it's showcasing its wares at the annual Mac conference.
Traffic Live is a feature available to Navigon MobileNavigator users via an in-app purchase for the GPS-based navigation app. The latest update will boost road coverage by 76 percent to more than 200,000 miles of North American roads, according to Navigon. More significant, the update includes more than 87,000 miles of secondary roads like city streets. That enhances the Traffic Live feature's ability to provide alternate routes; Traffic Live can now detect and reroute local and city traffic, determining which route will get you to where you want to go faster.
Traffic Live gets its data from Inrix, which is pulling real-time speed data from more than four million drivers. Inrix relies on driver reports of congestion, along with data from traffic cameras, speed sensors, and radio reports; its system also uses historic traffic data to help it predict road conditions when calculating routes. As part of the update to Live Traffic, Navigon will use a more comprehensive traffic feed from Inrix.
The new feed will be available automatically to MobileNavigator users who've bought the Live Traffic feature; there's no activation or download required.
Navigon's other big news Thursday is the introduction of the Navigon Car Kit, which works with the iPhone 3G, 3GS, and 4 models. The kit includes a mounting device and suction pad holder for easy attachment as well as a connection cord and car charger.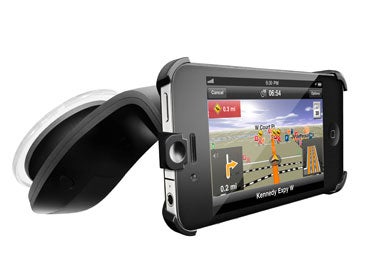 The Navigon Car Kit costs $50, though Navigon is knocking $5 off the price through February 3. The company also cut prices on its iPhone apps as part of a Macworld Expo promotion. The $60 North American version of MobileNavigator is on sale for $50 through January 30 while the price of the U.S. version has been dropped from $50 to $40. Other regional versions of MobileNavigator are on sale as well for the rest of the week, while the Traffic Live add-on is selling for $15—a $5 discount—through Sunday.
In addition to showing off its navigation apps and new car kit at its booth on the Moscone West showfloor, Navigon is also demonstrating its help2park app, the first in a series of free single-feature offerings the company plans to roll out this year. Released last month, help2park finds nearby parking spots based on your GPS position. When used in conjunction with MobileNavigator, drivers will be guided directly to a parking space.