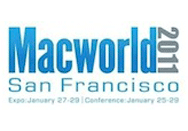 The show floor at Macworld Expo may not open for the public until Thursday, but the 2011 edition kicked off Wednesday with a traditional slew of topical user conferences and a new Industry Forum presentation. Throughout the day, a variety of seasoned industry professionals and pundits shared their knowledge through a series of 20-minute sessions across a wide gamut of topics, including Apple's role in the enterprise and the Web, trends in human and computer interfaces, technology's new role in rebuilding education, and how Apple's methodology isn't that much of a mystery.
Some presenters directly approached the topics of Apple, its products, and the company's practices, such as Harry McCracken of Technologizer, John Gruber of Daring Fireball, Colin Crawford of Media7, and Macworld's own editorial director Jason Snell. Topics ranged from Apple's success in the mobile space despite controversial policies, the fact that Apple embraced the Web as a platform and gave away for free what has become the most popular mobile browser core, how and why the first iPad efforts of magazine publishers were failures, and how Apple's core company principles have remained consistent over the years but are still incompatible with most of America's corporate culture.
Throughout the event, I noticed an undertone of casualness from the speakers not just toward their industries, but Apple's products and decisions. It was as if Apple's non-presence this year—the second consecutive year the company has skipped Macworld Expo—allowed the presenters to let their hair down a little, as it were. McCracken, for example, mentioned some historic Apple mistakes, such as boosting the Mac II's price "simply because Apple believed it was better." John Welch was also in his regular animated form, lamenting Apple's mixed approach to business customers, both criticizing its recent decision to discontinue the Xserve while elaborating on the many ways the company's other products fit just fine into the enterprise.
Two presenters focused on Apple's role in the changing world of education. Bill Wiecking of Hawaii Preparatory Academy explained how Apple's products allowed his school to be the first to tackle the Living Building Challenge for sustainable school design. Mike Lawrence of Computer-Using Educators dove into how the iPad is at the forefront of the new classroom and aiding in the death of the traditional textbook. He also did an on-stage demo of Inkling, one of the most interesting interactive textbooks available to change the way teachers reach students.
Bill Atkinson, a member of the original Macintosh team at Apple and now a professional photographer, offered a brief history of human-computer interface design. He then described his vision of the evolution for this design, which goes far beyond touch interfaces and even the budding augmented reality trend. Atkinson sees more sci-fi-turned-reality embedded devices in our future, featuring visual overlays, Kinect-like gesture interfaces everywhere we go, voice-recognition-everything, and always-on audio and video recording—so, basically, the iPhone 9 or 10.
After the forum ended, Paul Kent, General Manager of Macworld 2011, told me that the bite-sized format of the event was new for him, as was the particular event itself. Each session was only 20 minutes long, and I liked the setup. The speakers were generally good about distilling and condensing the right amount of information instead of just speaking twice as fast. The time frame ensured that no session droned on for too long, and there was sure to be a topic for just about anyone throughout the day.
Note: When you purchase something after clicking links in our articles, we may earn a small commission. Read our affiliate link policy for more details.